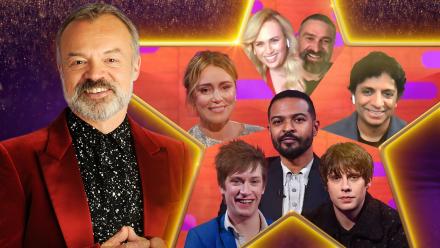 Daniel Sloss talks about his lockdown struggle on The Graham Norton Show tonight. Talking about the delayed release of his new book Everyone You Hate is Going to Die, says, "It has happened for a few reasons – the idea was to launch it in America but that couldn't happen because of COVID, then I had to rewrite the chapter on Trump because of what's happened in the last year.  And, I added a chapter on mental health because I lost my mind last year.
I went from 18 months of touring all over the world and getting my confidence and self-worth from a room full of strangers and then it was suddenly just me.  My girlfriend loves me but not as much as 3000 Russians!  I did a lot of self-reflection."
As well as Daniel Sloss, Norton also talks to Hollywood star Rebel Wilson, Ant Middleton, Keeley Hawes, film-maker M. Night Shyamalan, actor and writer Noel Clarke and singer songwriter Jake Bugg.
Rebel and Ant join Graham remotely to chat about Straight Talking. Ant says of the show, "The idea was to take Rebel out of her comfort zone and interview her over three days.  That is a long time to interview someone, so I had enough time to dig deep and find out who she really is."
Rebel, asked if she was worried that Ant would worm things out of her given his interrogation skills, says, "I didn't know about that.  They only told me when I got into the Mexican wilderness.  I'm not sure what secrets I had to give up, but I am quite candid anyway, so he didn't have to squeeze that hard.  I was down for the adventure and found out about the interrogation and all the dangerous stuff later!"
Revealing the most dangerous part of her adventure in Mexico was a rather embarrassing trip to the beach, she says, "We did all this crazy stuff in the show like swimming with sharks, horse riding and driving dune buggies, but the day after we finished filming I went the beach to do some 'hot' pictures for Instagram.  A freak wave came up and knocked us and my friend's handbag into the ocean.  I went running in like Baywatch to save the bag and got hit against the rocks, grazing my arm and bruising my ribs.  I did all those dangerous things with Ant and a trip to the beach was my downfall!"
Night joins Graham from the US for a chat about the second series of his hit show Servant. Asked about creating 30-minute television shows as opposed to hour-long dramas, he says, "One of the reasons I was hesitating to get into longform storytelling is because of the amount of material needed and the time and money you are given to achieve those results.  By bringing it down to 10 half hour episodes I felt I could do it at a very high-quality level.  I was able to take the time to do it properly."  
Talking about the lifelike fake baby used in the series, he says, "Everything about it is like a real child which is quite disturbing.  But we had some fun with it.  My mother-in-law was visiting, and I was touring her around my new office, and I went, 'Oh my god, someone left a baby.'  I handed her the baby, and she is holding it and tearing up and I realise I may have gone too far!"
Keeley Hawes, talking about her new series Finding Alice, which she co-wrote and stars in, says, "Death can be funny.  As human we are always trying to find the light in any dark situation, I think.  Everyone tends to have a funny story about death or about a funeral, it's that gallows humour and it's all very awkward.  Hopefully the series is funny while being serious about the subject."
Asked about her husband (Matthew McFadyen) and his role in Succession, she says, "It was so odd because I knew what he was doing but I hadn't read the script, so I watched it along with everyone else, going, 'Oh my god, he's so weird and odd.'  It was actually a really lovely surprise – he's played Mr Darcy and other brooding roles and suddenly there was this strange guy there.  I can watch it as a fan and enjoy his performance." 
Noel Clarke, talking about the success of Bulletproof, he says, "I am really proud of it and we have just found out that series four has been commissioned." Clarke and Ashley Walters will soon reprise their roles as Aaron Pike and Ronnie Bishop when the thriller airs on Sky One and TV streaming service NOW TV.
Asked about his mother and her misgivings about his career choice, says, "I think maybe now she gets it, but there was a time when I'd been in Auf Wiedersehen, Pet, I'd been acting five or six years, I'd won an Olivier Award, and Doctor Who was on the horizon, and she was on the phone to her friend and said, 'I don't know, he wants to be an actor!'  She still prays for me all the time!"
Noel Clarke is also the latest guest on the hit podcast Films To Be Buried With, hosted by comedian Brett Goldstein. Listen here.
Jake Bugg performs All I Need live in the studio and joins Graham for a chat about his upcoming album.
And finally, Daniel Sloss volunteers to sit in the Big Red Chair...
The Graham Norton Show with Daniel Sloss, Rebel Wilson, Ant Middleton, Keeley Hawes, BBC One, Friday 15th January 10.45pm. Also available on BBC iPlayer after broadcast.
Next week Graham's guests include Carey Mulligan, Neil Patrick Harris, James Norton, Ian Wright and Celeste.
Image Credit: BBC/So Television/Christopher Baines