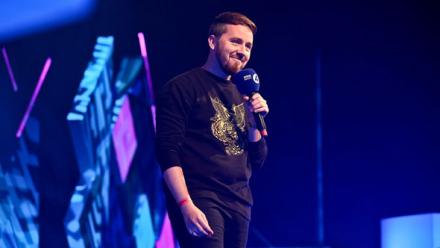 BBC New Comedy Award winner and
Scottish Comedian of the Year Winner 2018 
Stephen Buchanan is to record a stand up show for BBC Radio 4. And you can apply for free tickets to be in the Zoom audience below.
In Talking Shop, Stephen outlines his chequered work history from shop worker to human ping pong ball. At home Stephen lives with his mum and a Vietnamese refugee Dove. Can Stephen help Dove onto the career ladder and can they both move up in the world?
Stephen Buchanan - Talking Shop encapsulates the trials and tribulations of Stephen's life so far, alongside the true story of Stephen and Dove's developing friendship - all of which have led to this very moment: Stephen's debut Radio 4 special.
Tickets for this special recording are limited and will be allocated on a first-come first-served basis.
Date: Wednesday 20 January
Online access from: 7pm
Live recording starts: 7.30pm
Successful applicants will be invited to watch and listen to this live recording using Zoom .
In order for the BBC to be able to record your reactions throughout, you will also be given access to our Virtual Audience Recording system, which will need to be opened in an up-to-date version of Google Chrome on a PC or Mac (tablets and phones are not currently supported). You will be able to hear reaction from all other audience members live, so we hope that even though you are probably sitting at home, we can try and recreate the feeling that you're part of a live audienc
Audience members will be encouraged to react in the same way you would in a theatre - laugh, applaud and react whenever you want to, and when we mix everything together it will sound amazing!