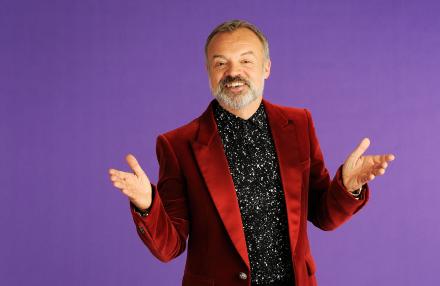 Some excellent guests lined up for this Friday's Graham Norton Show. Particularly if you like TV comedy.
Both David Mitchel and Robert Webb will be on the show. We don't know how much they will be talking about the much-missed Peep Show, but they will definitely be talking about their new comedy, Back, written by Simon Blackwell, which returns to C4 later this month for a second series.
Robert Webb may also talk about how he discovered he had a heart condition and was in danger of heart failure of it was not operated on quickly. In an interview with the Guardian he recalled how a cardiologoist said: 'I'm not saying you're going to have a heart attack in the next fortnight – but in the next two to four to six months, this heart will fail'....So that got my attention."
The other guests are Oscar winner Regina King talking about making their directing debut with One Night in Miami, singer and star of new Russell T Davies Channel 4 drama It's A Sin Alexander Olly, Queen's Gambit star Anya Taylor-Joy and musical sensation (although he sounds a bit like an Arctic Monkey to me) Yungblud.
Taylor-Joy revealed that she was a fan of Bake Off during filming: "Being in Beth's headspace the whole time was quite an intense experience and I had never seen Bake Off before, so I clung to it for the whole time – I watched it from the very beginning, so you were right there with me the whole time." 
She also recalled being gobsmacked when she saw her face on a billboard for the first time: "After quarantining I was still very jetlagged so went for a walk at four in the morning and ended up on Sunset Boulevard and there was a giant billboard of my face. I have never experienced that before in my life and promptly turned around and walked away because it was too much." 
Mel Giedroyc, who is always lots of fun, talks about her new Dave game sho with Lou Sanders: "We have an amazing array of people who are all surprisingly open in telling quite scurrilous stories about themselves. It was fascinating and I had the feeling they didn't quite know what the show was because we did get some rather bad stuff out of people. I think they were so pleased to be out of lockdown and among people that they overshared!" 
Plus US Tonight Show presenter comedian Jimmy Fallon, who recalled gigging in London in the 1990s. "It was 1995 and I was there for a week on holiday. I went to the Comedy Store and asked to do a routine. I turned up at midnight and I was so excited, but the crowd was a bit rough and when I was introduced as being from America they just booed and booed before I had even said my name. I just thought, 'Oh my gosh.'" It turned out OK in the end. "I was so nervous and was shaking, but it was one of the best gigs of my life and I almost got a standing ovation!"
Norton was a guest on the US chat show host's show just before Christmas, plugging this show which also goes out on BBC America.
The Graham Norton Show, Friday, January 8, 10:45pm, BBC One. 11.15pm in Northern Ireland.
Graham Norton Picture credit: BBC/So Television/Christopher Baines