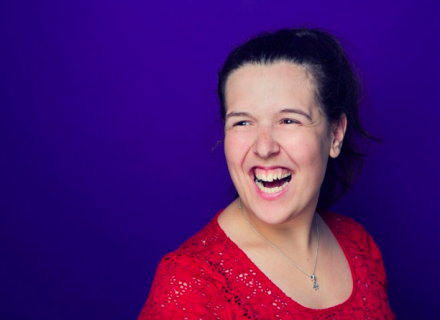 Rising star Rosie Jones is set to headline a forthcoming online show featuring the cream of talented disabled people.
The Abnormally Funny People show will feature stand-up comedy, sketches, songs, a quiz show, celebrity cameos, and more. It is part of the South Bank Centre's digital Unlimited festival and takes place on Sunday 17th January 2021, 7:30pm. Tickets £10 and £5 concessions, livestream event, for ages 16+. 
Abnormally Funny People started in August 2005 at the Edinburgh Festival Fringe. Since then, they've had a number of residencies at the Soho Theatre, a 2012 Paralympics Show, and countless shows around the country and abroad.
The line-up also includes Cherylee Houston, Don Biswas, Gareth Berliner, Goz Ugochukwu, Jess Thom, Kiruna Stamell, Laurence Clark, Mat Fraser & Julie Atlas, Melissa Johns, Simon Minty, Spring Day, Steve Best, Steve Day, Tanyalee Davis and Tim Renkow (subject to change).
Ticket bookers must download Zoom to access this event.
Read a piece about Abnormally Funny People here.
Buy tickets here.