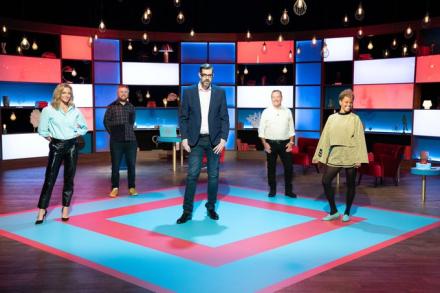 Tim Key joins the line-up for the first week of House of Games of 2021.
The other contestants are Margate resident DJ Gemma Cairney and sporty people Gabby Logan (who is on Instagram here) and Jeff Stelling.
Comedians have been doing pretty, pretty well on the programme recently, with Angela Barnes smashing various records and winning all five of her episodes and Isy Suttie also being the overall victor when when she appeared in November. Josie Long also won her week in December. Previous winners in this series include Neil Delamere, Rufus Hound and Stephen Mangan.
Key is a bit of a legend. Since winning the Edinburgh Comedy Award in 2009 with his Slutcracker show he has become a regular face all over the television. He was the malevolent villain in the very first episode of Inside No. 9, Sardines, he read his poems on Charlie Brooker's Screenwipe and he was a co-creator of quirky BBC4 quiz We Need Answers with Mark Watson.
Talking of quirkiness, Tim Key was in the very first series of Taskmaster and, in fact, have you ever wondered who comes up with the tasks on taskmaster? Tim Key has been involved in devising some of the challenges. He previously worked with Alex Horne in his stage shows too. He is not the Tim Key who is executive producer of Death in Paradise. That's a different Tim Key. 
He has also been in other TV comedies including Peep Show and The Detectorists. In fact sometimes it seems as if a comedy series is not complete without him. 
Key has also worked with comic genius Daniel Kitson, appearing with him at the Old Vic in Kitson's play Tree in 2015. And you can buy a Tim Key book. 
But most people will probably know Key as Sidekick Simon, who regularly appears with Alan Partridge (Steve Coogan). Hopefully he will be back in the new series of This Time With Alan Partridge, which comes to BBC One soon.
As for Tim Key's private life, that's pretty private. Is there is Tim Key wife? Is he single? Does he have a partner or a boyfriend or girlfriend? You'll have to ask him yourself. But we do know that he likes pubs.
Richard Osman's House Of Games (with Tim Key), Mondays-Fridays, January 4 - 8, BBC Two, 6pm.
Picture: BBC