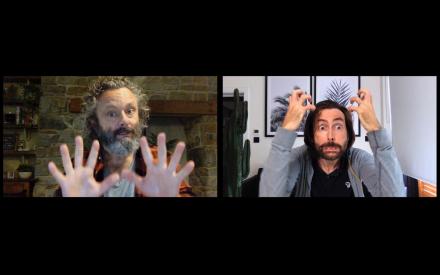 Back in mid-December when the launch date for the second series of Staged was announced I jokingly tweeted: "So clever of BBC to schedule it to coincide with new lockdown". Little did I know how accurate that tweet would be. We need the housebound status games of Michael Sheen and David Tennant as much as ever now.
At the start of the first episode though it looks like they are not in lockdown. Trips are planned, work is potentially around the corner again. But then it soon starts to get cancelled. I know the feeling. 
If the first series tinkered with the postmodern idea of Sheen/Tennant "are they/aren't they playing themselves?" this opener goes full meta-comedy. It even opens with a spoof Zoom TV programme fronted by Romesh Ranganathan – this was surely a lovely media in-joke about how much Romesh is on TV these days, which Romesh sportingly took part in. Or maybe he just genuinely never turns down an offer of work.
The pretend-Zoom programme also included a delicious cast-against-type cameo from Sir Michael Palin who gushed about his love of Staged on camera but once muted sourly said that he didn't like it and that he did not think much of getting laughs out of improvisation – the Pythons always worked hard on their scripts. 
As for Sheen and Tennant, they were soon at odds with each other too, about jobs they'd had, jobs they'd turned down, jobs they wanted. The big news was that America wanted to remake Staged. So maybe something good would come out of lockdown for them?
Time to dust off those passports? Cue cameo from Whoopi Goldberg to break the bad news. Unfortunately they wanted to recast. And not even with Americans. Just more famous Brits. Maybe Colin Firth and Hugh Grant…
Personally I thought it would have been funnier if they had decided to keep Sheen – who is probably better known in the USA than Tennant thanks to his movies there – but wanted to recast just Tennant for the US version. Now that really would have put the cat among the Trip-style ego pigeons. 
Anyway, I've just glanced at some early reviews and have seen that some critics have been a bit sniffy about this, one calling it indulgent. Maybe, but it's the kind of indulgent I rather like. 
Staged, with Michael Sheen and David Tennant, Mondays & Tuesdays, 9.45pm, BBC One. All available now on iPlayer.
Picture BBC/Staged Films Ltd
Photographer: Screengrab