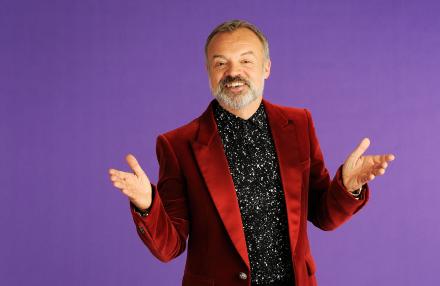 The line-up has been confirmed for Graham Norton's New Year's Eve show on Thursday night. 
The award-winning Irish chat show host will be joined by a glittering array of guests including Tom Hanks, Jessica Chastain, Sophie Ellis-Bextor, Jamie Dornan, Emily Blunt, food writer Hugh Fearnley-Whittingstall and comedian Nish Kumar. 
According to the Mail Jessica Chastain will be talking from New York about setting up her grandmother Marilyn, with whom she presents a lockdown cooking series.
Chastain said: "She's an amazing person, but I still haven't found her a man. She's a total catch and I've been posting pictures of her exercising with me – she is very fit!"
She also talks about her upcoming thriller The 355, which has been postponed because of Covid. "I was conflicted about asking people to get into large groups and go to the theatre when there is a pandemic, so I am very happy to be patient and to wait until it is safe to be around each other." 
Meanwhile Tom Hanks explains to Norton that his 12-year-old co-star in News Of The World knew nothing about his reputation and had not seen his films.
Hanks stars in the post-Civil War drama as Captain Jefferson Kyle Kidd, a widower and war veteran, who now works as a traveling non-fiction storyteller.
German child actress Helena Zengel features as Johanna, a 10-year-old taken in by the Native American Kiowa people and raised as one of their own. 
Hanks said: "I think she is too young to have seen any of my films. I would test her every now and again and she would shake her head and say, 'That means nothing to me.'"
"I'd say, 'When I worked with Clint Eastwood…' and she'd say, 'Who is Clint Eastwood?'"
Sex symbol Jamie Dornan chatted about the reponse to Emily Blunt's Irish accent in forthcoming film Wild Mountain Thyme: "I thought the reaction was funny. I'm from Ireland and our currency is taking the piss, so it's rare to put something out there and not have the piss taken. I'm all for it."
Dornan and Blunt play lovers Anthony and Rosemary in the film. Emily Blunt said: "When we read the script, we thought it was so bewitching and completely unique. It is odd, lyrical and romantic so we are just excited for people to see it because it is so uplifting, and it certainly sweeps you away to a magical world. It is just a joy."
The Graham Norton Show, New Year's Eve, BBC One, 10.25pm
Graham Norton Picture credit: BBC/So Television/Christopher Baines