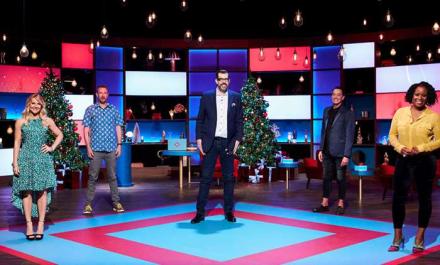 I don't know anything about his personal life but I think it's fair to say that career-wise Richard Osman has not had such a bad 2020. He's published a best-selling novel and has continued to be a TV regular on the various versions of Pointless alongside Alexander Armstrong and fronting his very own House of Games. And now for Christmas he is back with an all-star festive outing for House of Games.
The competitors are Taskmaster creator Alex Horne, newsreader Charlene White, Miranda star Sarah Hadland and Strictly judge Craig Revel Horwood. It's interesting that Alex Horne is taking part because I've always felt there is something of an overlap between the games people play on his show Tasmaster and the rounds on House of Games. Both try to steer clear of conventional general knowledge formats in their own way. Also Osman as extremely tall sidekick to Alexander Armstrong on Pointless has echoes of Horne as extremely tall sidekick to Greg Davies on Taskmaster.
All of which is to say that if I was a betting person I would put my money on Alex Horne to win tonight. Comedians have recently had a very good run on the teatime version of House of Games, with Isy Suttie and Josie Long winning their weeks and Angela Barnes absolutely smashing it and winning all five episodes she appeared on. Basically comedians are smart cookies and maybe also have the kind of lateral minds that are suited to quirky shows like this.
But then again don't underestimate Charlene White, Sarah Hadland and Craig Revel Horwood. House of Games is definitely a show that can throw up surprises and as well as tinsel and seasonal sleighballs don't be shocked if there are some curveballs in this edition.
Richard Osman's Christmas House Of Games Night, Monday, December 27, BBC One, 7pm.
Picture: BBC