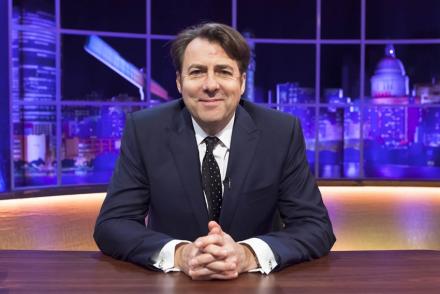 The Jonathan Ross Christmas Show has an interesting line-up. Jonathan is joined by one of the country's top presenters Bradley Walsh, alongside his son Barney Walsh, former Coronation Street and Our Girl star Michelle Keegan, Olympic legend Sir Mo Farah fresh from his stint on I'm A Celeb, hugely popular comedian Kevin Bridges, the very funny Emily Atack and the chart-topping Jess Glynne, who will be performing in the studio. 
Bradley Walsh, 60, talks about getting healthier after receiving a warning about potential heart issues, calling himself a "time bomb" and that he was producing too much cholesterol
"I'm back boxing training now. Full time,' he says. 'I've done about a stone and a half in weight."
Scottish comedian Kevin Bridges also says he is trying to keep fit. "I got the 5K done,' he said of his running. 'I thought, I'm going to keep going. I thought I'd done maybe four times that – I looked at the watch, it was about 8K."
Bradley added: "I've lost a bit [of weight], put a bit on.. I'm still in profit. From my heaviest to my lightest was about three stone. I've spent a stone. So I've still got two stone in the bank.'  
Emily Atack tells Ross about running around Paul McCartney's house in her nappy as a child.  "He's my grandma's first cousin. To me, he's a third cousin or something like that...I'm pretty sure he doesn't go around bragging that he's my cousin."
Atack desrcibes her traditional family Christmas days and calls her uncle, Robert Dawes, a 'real thespian'. "He goes round the table, we all get a heart-warming speech, all of us. We sound like the Von Trapp family, but pissed,' she teased. 'We get these lovely speeches each, then we all start crying and hugging."
Atack's mother is comedian Kate Robbins, her father is musician Keith Atack and her uncle is comedian Ted Robbins.
Michelle Keegan talks to Jonathan Ross about her role as Georgie in TV drama Our Girl. There are no current plans for another series but she said she would not rule out a return for Georgie: "I will never say never with Our Girl. I absolutely loved that job. It was a fantastic role for me, it was really challenging, not only was it physically challenging, but I learnt so much on that job about the military and the medical side as well. I really enjoyed it, but I felt it was the right time for me to move on, then.
"In future Georgie can come back, they have left the door open for Georgie. I've done it for four seasons, I was going away from home quite a lot. I was away for four months at a time, the year before that I was away for eight months. I was so lucky [to travel]. It's hard work and long days. Sometimes we're working six day weeks and it is very challenging."
Discussing her confidence with Jonathan Ross she added: "I think that's a reason why I did Our Girl. When I first got the role, people were doubting me straight away saying, 'She can't do that. It's too stripped back.' That was a chance for me to do what I wanted to do as an actress. I felt very lucky I was able to do that. I would say that I gave everything to that role, definitely."
She is due to return for another series of the Sky comedy Brassic: "We have so much fun and I think you see it onscreen. It's very organic. We all have such a great laugh filming."
The Jonathan Ross Christmas Show, 10pm, Thursday, December 24, ITV1.