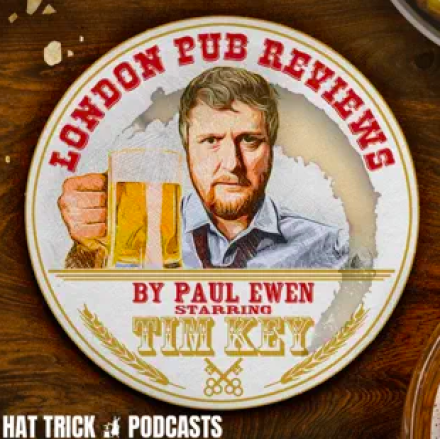 London Pub Reviews is a ten part, scripted audio series, adapted from the book of the same name by Paul Ewen, and performed by Tim Key. Each episode is a fictional review of a real pub, as our unreliable narrator attempts to pass judgement after consuming three or four too many.
Hat Trick Podcasts present a limited series of 10 episodes over Christmas and New Year, beginning on Thursday 17th December.
It's a funny and surprising collection, but it's also a love letter to traditional boozers – to the eroding landscape of shabby characterful pubs that are slowly and sadly becoming trendy
restaurants or swanky apartments.
Paul Ewen is a New Zealand writer based in south London. His work has appeared in the British Council's New Writing anthology, the Guardian, Dazed and Confused and Five Dials. His first book, London Pub Reviews, was called 'a cross between Blade Runner and Coronation Street' (Waterstones) and 'a work of comic genius' (Dan Rhodes).
His first novel, 'Francis Plug: How To Be A Public Author', was published in 2014 and went on to appear on numerous Books Of The Year lists, won a Society of Authors McKitterick Prize, and was described as "inspired" by the Sunday Times, whose reviewer also called it "a brilliant, deranged new comic creation... the funniest book I've read in years."
Tim Key is an actor, writer and poet. He has won the Edinburgh Comedy Award, been nominated three times for the Barry and once for the Malcolm Hardee Award for Comic Originality. He plays Sidekick Simon in Alan Partridge and has appeared in 'Inside Number 9', 'Peep Show', 'Pls Like', and 'The End of the F***ing World'. His radio show 'Tim Key's Late Night Poetry Programme' has run for years on BBC Radio 4, and he continues to write and perform his own five star live shows. Most recently he made the critically acclaimed 'Megadate' which he performed at The Old Vic before adapting it into a BAFTA nominated BBC1 short, with the subtly different title: 'Wonderdate'.
Tim's new book, "He Used Thought As A Wife", a collection of poems and conversations written in the heart of 2020, is available now from www.utterandpress.co.uk
London Pub Reviews is produced by Nick Coupe and Andy Goddard for Hat Trick Podcasts.
Available on Acast, Apple, Spotify and wherever you get your podcasts.