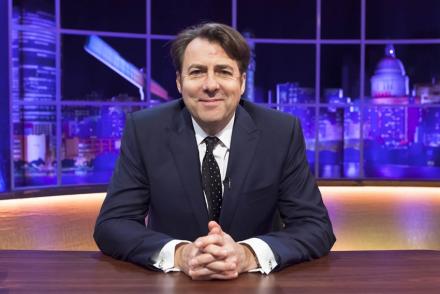 This week on The Jonathan Ross Show, Jonathan is joined by one of the most popular and most talked about sportsmen in the world – two-time heavyweight world champion boxer Tyson Fury, plus, national treasure Dame Joan Collins, the hilarious Russell Kane, TV presenter and Don't Hate The Playaz star Maya Jama, and multi-platinum selling musician Jamie Cullum, who will be chatting and performing in the studio.
According to this report Tyson Fury confirms on the show that he wants to fight Anthony Joshua.
He says: "Next year, the fight has to happen. He's come over his final hurdle last week against Pulev. And now we're both free to make this fight. I'm willing to do the fight.
"He was asked the question, 'Do you want to fight Tyson Fury?' very plain and simple, and he never answered the question. It was a simple yes or no answer wasn't it? Then they said, 'Do you think you're the best heavyweight in the world? and he went [holds hands up]. Didn't answer the question. Ask me, do you want to fight Anthony Joshua? Jonathan asks him and he replies: "Yes".
Tyson is asked who is the best heavyweight in the world and he says: "Me, by a mile. There we go, that's how you answer the question."
Asked if this will be the first time the heavyweight belts are unified in one competition, he says: "He's [Anthony Joshua] unified champion now, I was in 2015 before my problems and I had to vacate them all. So it'll be the first time since Lennox Lewis 20 years ago that there's been an undisputed champion."
He adds: "I'm a creature of habit. I've done this since in the womb, basically. Came out fighting, fists ready. I'll continue until there's no more challenges, no more proper challenges to fight, say when I beat Joshua next year, I'll have beaten the best from the last era and my era. So then there'll always be someone else to fight."
Dame Joan Collins chipped in: "I wouldn't say I'm a fan, I get upset when I see someone get hit. I feel for them."
Tyson also addresses his desire to be removed from the BBC Sports Personality fan-voted award list, saying: "I've asked to be taken off a list. They've not listened. I've even sent them a legal letter to be taken off. They're still not listening. So they're trying to take away my rights as a person, to not do something that I don't want to do. My name shouldn't be on there if I don't want it on there. It's a free country. They are doing something that I do not wish to participate in.
He also talks about his mental health: "2016 I was really, really ill. I'd been planning suicide for quite a long time – I'd been planning it in my head, what I was going to do. I didn't think I'd have the minerals to do it. This one day I thought, 'This is the day'. Got into a red Ferrari, got up to a high speed, I was going to crash into a motorway bridge.
"As I was heading towards that bridge, flying, I got a few hundred yards ago, had this voice speak to me and say 'don't do this, you're going to destroy your family's life, your kids will grow up without a father'. So I pulled over. I could feel my heart beating in my chest, I was sweating, I was in a right state. For the first moment in time I realised I couldn't do it on my own and needed medical help."
Collins, 87, talks about her long career on the show: "I was 17 and I did this dreadful movie, Lady Godiva Rides Again. By 20 I was put under contract at 20th Century Fox. I got on a great big jet to go to America all by myself at 20."
"I never had anybody, I never had the great agent, or great husband – before Percy [Gibson] that is – I never had anyone who was really supportive of me. I had a very tough time all my life. As an actress, when you're very young and pretty, you're not taken seriously as an actress. Vivien Leigh told me this. She said, 'People only started to think I could act when I started to lose my looks."
She paid tribute to Barbara Windsor: "She was always great fun, with the cackle laugh. We did something for the Queen. We did a lot of things together." 
Maya Jama talks about dating and being single after breaking up with Stormzy: "It's a weird thing… Any time I take a picture with a guy when we've been working or doing a job, it's 'Oh my god we must be dating' this whole thing. Anyone that's single, [people put] two and two together, it's like, no way could they be friends. It just gets awkward. In real life I've got 50% male friends, 50% women. I'm actually really, really, really single."
The Jonathan Ross Show, Saturday, December 19, 9.25pm - 10.25pm, ITV1.
Picture: ITV