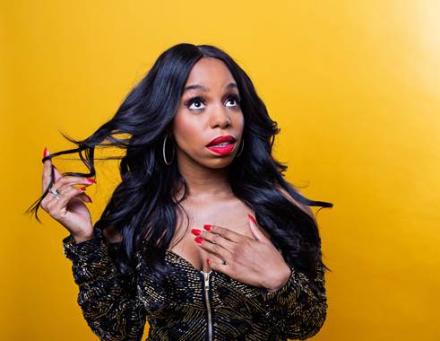 Comedian London Hughes is set to star in a new comedy enttitled Hot Mess, to be made for Universal Pictures.
Variety reports that the film will be written by Noushin Jahanian, based on an idea from Jahanian and Hughes. Hughes tweeted that "it's loosely based on my life!!!!"
Will Packer and James Lopez will produce with Johanna Byer serving as executive producer. Universal's Senior Executive VP of Production Erik Baiers will oversee the project on behalf of the studio.
Hughes said: "Will Packer and James Lopez are my LA Fairy God-Dudes! James was one of the first executives I met when I got to the States and he immediately believed in me. I'm beyond excited for the world to see what we've been up to."
The UK-born performer  is on a roll at the moment. Her Netflix stand-up special To Catch A D*ck is released globally on December 22 and she is also a co-host of a new show on the streaming network, The Netflix Afterparty, with David Spade and Fortune Feimster. She is also set to appear on History of Swear Words, hosted by Nicolas Cage.
Hughes has had a varied career up to now but is finally getting the recognition she deserves. BTJ first saw her in the Funny Women final in London in 2009 when she appeared under the name of Miss London and was such a force of nature she was the obvious winner. In 2019 the autobiographical show which is coming out as a Netflix special was nominated for an Edinburgh Comedy Award Best Show prize at the Edinburgh Fringe.