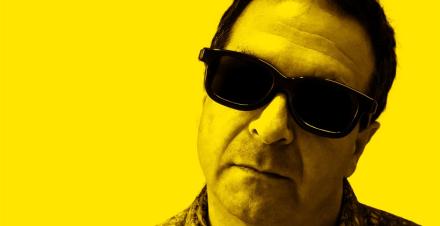 ****
Mark Thomas certainly has an impressive work ethic. Two years ago he was at the Fringe with a very personal show, Bravo Figaro!. He then spent the last year on the more political, not to mention labour-intensive, 100 Acts of Minor Dissent. Somewhere along the way he also found time to put together this new show, which neatly marries the personal and political.
Cuckooed tells the story of a personal betrayal in a political context. For a long time Thomas was involved in the Campaign Against Arms Trade, demonstrating at arms fairs and cornering glorified gun runners. He often did this with a friend called Martin. They bonded and were buddies. And then after seven years it turned out that Martin was a spy for the other side – this is no spoiler, it is revealed at the start.
Thomas tells this tale with the skill, wit and passion one has come to expect from him in a piece that is part stand-up, part-dramatic monologue. There are plenty of gags and visual flourishes. He grins as he describes his lefty gathering outside a trade fair as "our Ascot". He puts a bike lock around his neck to re-enact one of his actions and relies on an audience member to look after the key. Maybe this is a metaphor for the trust he put in Martin.
He sits, he stands, he glares, he smiles, he rattles through some passages and takes his time over others. The minimal stage set resembles an office. Filing cabinets on each side are opened and inventively reveal video screens on which fellow campaigners tell their side of the story.
For all of his investigative skills the veteran comic was the last to believe that Martin really was on the other side. Though maybe in retrospect the fact that he knew Martin had previously worked in the arms industry might have raised a few alarm bells. But not only was he a mate, he had thrown a pie in the face of a BAE Systems executive. Thomas uses the show to find some closure, tracking down Martin on film to try and make sense of events.
For long-time Thomas fans there is a little bit of deja vu here. In some senses this is a sideways sequel to previous work onstage and on television. I'm sure I have seen the clip of him interviewing an Indonesian general talking about torture before, but you can't hold any recycling against him. Apart from it being eco-friendly he has had a busy year. 
As he comes to the end Thomas broadens the story out to talk about spying on individuals in general, from builders being put on blacklists to the family of murdered teenager Stephen Lawrence being spied on. It feels a little gratuitous, but then it grows to make a very powerful and chilling point. We might think we live in a free country, but there may be forces at work against us that we are not even aware of. And maybe enough is enough.