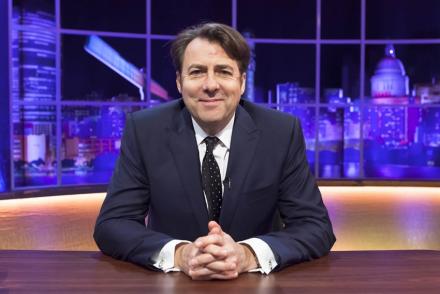 On this week's episode of The Jonathan Ross Show, Jonathan is joined by musical guest Robbie Williams, Britain's Got Talent judge David Walliams, rap superstar Megan Thee Stallion in her first UK TV interview (although UK viewers may have seen her on James Corden's Late Late Show on Sky Comedy this week) plus comedians Micky Flanagan and Judi Love. 
Singer Robbie Williams speaks about how it feels to return to performing after lockdown: "I've been with the kids for nine months, all of a sudden there's an audience and lights and cameras and you know it's going to be on TV with an audience of millions. You feel like you're walking with the same hand and foot and it's robotic. It took me a few rehearsals to be ok [ahead of tonight]." 
Discussing his different personas at home and on stage Robbie says: "At home I'm Rob. When I'm on stage I'm Robbie. People confuse me with the guy that gets on stage and gives it the big one. I wouldn't be able to get away with that at home.
Speaking about their friendship, David Walliams says of Robbie: "Our kids have met and play together and in pre-Covid times I've stayed over at his house and he's a lovely, lovely man. I would echo what you said about Ayda, you were quite miserable before you met her. I felt like, he's got all this success and he's not happy. It took you to really, really fall in love. Also kids are the best thing to happen, they put everything in perspective."
Robbie notes: "I've got four babies now, four kids. I had my hands full [in lockdown] but it's been incredible as they now think I'm a stay at home father. They get all of me, all the time. This is the first time I've been out of the house for 8/9 months. Covid has been awful, but for being a dad and having structure and being with them every day it's been beautiful."
David Walliams FaceTimes his mum during the show and after speaking to her he says: "This thing has been hard for old people. She chose to go into a bubble with my sister because she lives very near my sister. It makes more sense. I was like, 'Oh…' but we can all be together at Christmas time."
Robbie speaks about his Christmas single Can't Stop Christmas and how he'd originally planned to release a song off of his previous Christmas album: "Ayda said, 'Don't be lazy.' When your wife gives you that face. She said, 'There's never been a more weird time on the planet, why don't you write a song about what's going on?' She said, 'Call it, Can't Stop Christmas'."
Robbie plays Boris Johnson in the video and we get to see a clip.  Of the transformation he explains: "Prosthetics, couple of hours, heavy make-up, padding of course, the voice."
Discussing being a Take That fan Judi Love says: "I didn't see Robbie or the boys [back in the day], couldn't afford their ticket, but I did go to a Blue concert instead. It was fantastic. You know when you watch them kind of concerts on TV and girls are throwing bras, we saw a couple of girls throwing A-cups. Me and my bredrins are busty, we decided we wanted to throw our bras. My friend took off her bra, it hit a singer, a G-cup over his face. Someone shouted out, 'Whose mum threw out their bra?' We had to travel home with our arm under our G titties, trying to hold up our breasts."
Of what it was like starting out as a singer Robbie says: "I joined Take That when I was 16. We only did gay clubs for the first 18 months. They were just brilliant. They loved us, we loved them… all of a sudden I'm in this gay club where guys were in this world where everything is safe and fun and you're allowed to be whatever you want to be. The culture shock was incredible. For the first 18 months we just had a great time in gay clubs. The first thing you realise is that no one's going to kick your head in. That's incredible."
Asked about nerves Robbie says: "Not in the early days. There was five of us, four other boys to hide behind. It wasn't until I became a solo singer that I developed intense stage fright."
Later, rap superstar Megan Thee Stallion joins the show from LA via a video call. In her first UK TV interview, she says of coming to the UK: "I loved it [in the UK]. When I got there I was like, 'Is anyone going to know my songs?'. When I got there everyone was singing it word for word, they killed it. I love how everyone showed me love. I can't wait to come back."
Speaking about the reaction to featuring on Cardi B's WAP single, she says: "I really appreciate all the positive comments. The song is about women owning their bodies, their sexuality. I don't know why me talking about my WAP is offending anyone. Forget what the haters have to say."
Megan shows Jonathan and his guests the dance to Body and they all give it a try in the studio with mixed results.
Micky Flanagan speaks about not missing touring: "Three years [I haven't toured]. No. sort of, a bit [I miss it]. After 25 years, it's not like you need to do it.
"I will do it again, don't worry. But when I'm ready to do it. When I feel like the baby is ready to be born. I don't know [when]. A couple of years probably. The minute we can do it in the environment... I can't be doing it to people in masks." 
He adds: "I probably won't do the arenas again, too much pressure. It's just too much."
Micky continues: "When you walk out… 15,000 is different to 3,000. It feels big and it's a bit overwhelming I think."
He adds: "Once you've done it, you've done it, you know? I want to go back to doing the comedy clubs. I don't know how it's going to go."
Discussing his one-off show, Peeping Behind The Curtain, Micky explains: "It's a sort of biography of my life. But just really showing how you build a show, tour a show, how you start your career, the clubs, a look at the comedy world really. It's about stand-up comedy." 
He adds: "Big part of it is failure. The thing about comedy, you have to go and fail in public."
He adds: "It's all hard in the beginning, you're not very good, the gigs aren't good, it's all a bit s***. They don't care. Sometimes you get put in pubs and they're having a couple of beers and you're shouting at them. I was doing a show once and there was a group of fellas at the table, they were talking, I said, 'We're doing comedy over here, can you be quiet' and they said, 'We're having a pint over here, can you be f***ing quiet?' He said, 'Actually, I'll make you be quiet'. He stood up, I just went, 'Listen, we're not only going to be quiet, we're leaving'. That's the type of environment you work in.
"The first gig I got offered, in the afternoon I said I'm not doing it. That's how nervous you are. The next one I went with a couple of friends and there was a fire at the back, all the curtains caught on fire at the back of the venue, all the flames. I was like, what a touch. Fireman comes, go on you can all go back in there. Went in, did the show. You don't even remember. Your first shows… it's just a haze."
Micky, who lives in south London with his wife, son and pet dog, speaks of whether he wants to break America: "Nah, f*** that. I wouldn't say I wouldn't want to break it. Not going to do the slog. I did talk to an American agent. She said, 'You're going to have to come to America for a year minimum'. I didn't bother. I had Kent and Essex, I don't need America. If you go to America, what am I going to do there? They ain't going to understand a word I say."
Judi Love adds: "One of my first gigs, turned up and there were two audience members and I still had to perform. That's the hardest. You get hecklers and stuff like that, which I'm kind of used to. It's when they're talking amongst themselves and you're trying to be funny at the same time."
Speaking about being recognised more as a result of being on Loose Women, Judi says: "There's some awkward places. I'm always happy for someone to recognise me… the gynaecologist, he still had his head right down there and he said, 'You were really funny on Loose Women'. Awkward moment."  
Speaking about a Little Britain gig, David says: "We had three people in the audience [one night] and someone called the box office five mins before we started and said, 'Can they start a bit late as they're watching the end of EastEnders?' We waited – doubled our audience."
The Jonathan Ross Show, Saturday, December 11, ITV1, 9.30pm. 
Picture: ITV