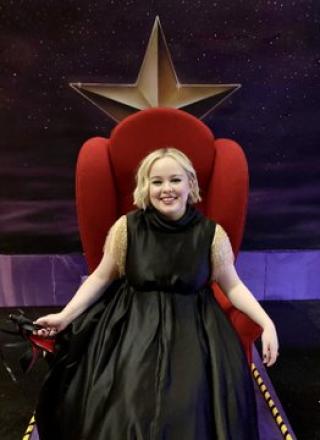 The guests on The Graham Norton Show this week are Nicola Coughlan from Derry Girls, Lee Mack, Gal Gadot, McFly, Tessa Thompson, Jennifer Saunders and Claudia Winkleman.
It was recently announced that Strictly Come Dancing host Winkleman will be taking over Graham Norton's Radio 2 show on Saturday mornings. Norton is going to do a show on Virgin Radio on Saturdays and Sundays in 2021.
Lee Mack will be returning to BBC One in the New Year with a new series of his long-running sitcom Not Going Out following a New Year's Eve special.
He will also be fronting a new primetime ITV1 quiz show in 2021. In The 1% Club you don't have to be a nerd or a swot to win. All you need is logic and common sense. 100 contestants begin every show - but to make it to the end and win the top prize of up to £100,000, contestants must correctly answer a question only 1% of the country would get right.
The previous show show Mack hosted in 2020, for Sky History, called The Chop, became embroiled in a recent "Nazi Tattoo" scandal. It was axed, according to The Sun, after it was alleged that some of a contestant's tattoos had right wing meanings. 
Jennifer Saunders is set to reunite with Dawn French for a brand new BBC Radio 4 Comedy which will be broadcast this Christmas.
In Whatever Happened to Baby Jane Austen?, written by David Quantick, Florence Ransom (Dawn French) is a literary novelist, known for the Booker Prize winning Pennant Days. Her sister is Selina Mountjoy (Jennifer Saunders), a movie star and glamorous celebrity. The two sisters have avoided each other for decades but, when Selina returns to Britain to promote her kiss and tell autobiography Kiss And Tell, the two are forced together once more. More details here.
For those of you that are interested in this sort of thing, Nicola Coughlan's shoes are by Laboutin and her dress is by JW Anderson.
The Graham Norton Show, Friday, December 11, 10.45pm, BBC One.
Here's a clip below of Lee Mack when he was on the show with John Cleese and Martin Clunes
Picture: Nicola Coughlan/Twitter