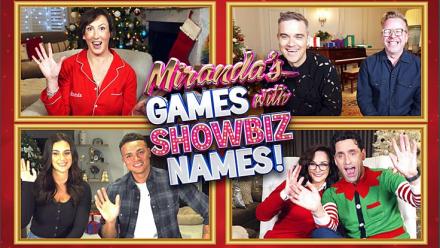 Miranda Hart fronts a one-off festive special promising games and such fun. She talks about the show below.
The show will air on BBC One on Christmas Eve and will feature Robbie Williams, Shirley Ballas and Jermaine Jenas.
What can you tell us about Miranda's Games with Showbiz Names?
Well, what I love about the joyfully camp title is that is tells you exactly what to expect! I shall be playing very silly games with some famous faces, who you'll see in a new light from their own home, and are fully on board for the mayhem that I promise shall ensue. It's a format that was created for the current climate and I hope it provides some unique larks for whatever level of lockdown people are in.
Are you excited to be hosting your very own game show?
VERY! It'll be different to any other entertainment show as we aren't in a studio, and there won't be an audience. Although I love working off and with an audience, this is a fantastic new format I'm very excited about.
Is there a particular challenge you like the most in the game?
There is indeed a particular game I love. I'll keep my cards close to my chest as to what the games are, but my favourite involves ridiculous dancing and makes me laugh every time.
How well do you think you would do in the challenges if the tables were turned?
All I know is that I would be wholly game for my games!
Who would be your dream celebrity guest couple?
This show's guests are pretty blooming dreamy I must say. But maybe a Hollywood couple - ooh, I know, let's go Beyoncé and Jay Z and see inside their house!
What are your plans for Christmas this year?
Do any of us know?! I'm just taking it hour by hour and day by day. But I think I'll be with my Mum and Dad in Hampshire which will be nice and cosy.
Do you and the family like to play games during the Christmas period? Do you have any particular favourites?
Yes, we are a real games playing family. Cards, the name game, charades and I remember a few years ago mentioning our favourite one, which some people knew what I was talking about - This is a Spoon! If you know you know… And there's always a jigsaw out.
Would you say you're competitive when it comes to a games night?
One misconception about me is that I am competitive but actually I'm not remotely competitive about anything. I just like to play. It's about the larks, not the winning.
In such a strange year, how important do you believe it is to laugh during these times?
It's absolutely vital. I believe you can hold the joy amongst the darkness and that's what keeps us going in our struggles. I try and find a moment of fun every day. And it's why I love my job - because if one viewer has had a jolly half hour with something I create, it's worthwhile and served a purpose. I think television is a wonderful friend to many.
What can viewers expect when they tune in?
They can expect lovely, friendly, famous faces making complete idiots of themselves for their enjoyment! I really, really hope that anyone struggling at this time is brought cheer from it. That's why we're doing it.
Interview supplied by BBC