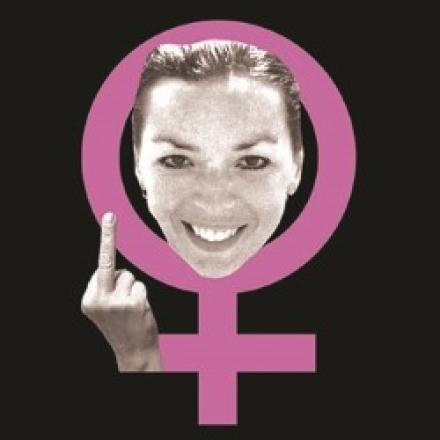 I know that Edinburgh should be about looking forward rather than looking back, but 2014 may be the year that more previous Edinburgh Comedy Award winners are appearing at the Festival than ever before. Of course, there are more Edinburgh Comedy Award winners than ever before, but there does seem to be a plethora of them returning. Is it to cash in on their fame? Is it to show the young whippersnappers how it's done? Is it just sentiment and trying to recapture the spirit they had when it all began? Is it all that and more? Who knows, but here are some famous names to look out for.
Everyone in comedy should know about Bridget Christie (2013 winner) by now so we won't say too much about her. You can only win the Foster's Edinburgh Comedy Award once though, otherwise we might be talking about Christie as a front runner for the prize again. We've heard lots of good things about An Ungrateful Woman and if anyone can get a laugh out of female genital mutilation (while making a serious point) it is Christie.
Dr Brown (2012) was not originally going to be at the Fringe, but he has just announced that he will be making a flying visit with a daytime children's show plus his late night experimental play, BEWHATTHEFUCK from Aug 2 - 14 at the Banshee Labyrinth (free, doesn't seem to be an online link yet). Brown, aka US clown Phil Burgers is never less than interesting, but don't go unless you don't mind being part of the show.
Adam Riches (2011) is back with what may well be his first show since winning the Foster's Award with his own take on immersive, explosive comedy. Can he top the madness, excess and
extreme swingball of 2011's show in Adam of the Riches? There really is only one way to find out.
Russell Kane (2010) is up here doing his Kaneing podcast and also his excellent Smallness set. I saw the latter at the Queen Elizabeth Hall earlier this year and Kane was on phenomenal form, firing out gags, banter and existential ideas at such a rate it was hard to keep up with him. i'm not quite sure how he will cram all of his ideas about class, Englishness and repression into an hour, but I guess it'll be fun watching him try. 
Tim Key (2009) is also bringing a hit show to the Fringe. Single White Slut found Key coming up with a few surprises onstage in London. If it was not quite up to the standard of his Slutcracker set Key is still a charismatic, quirky, flirtatious comedian and poet who always finds an interesting angle to explore.
David O'Doherty (2008) welcomes us all into his veritable Davidzone again. Join him and his keyboard on a rip-roaring ride in which he explains why he is the lost Sugababe and also the bad
boy of Zumba. In a world of whimsy O'Doherty is king. If O'Doherty is king Brendon Burns (2007) plays self-mocking jester in his new show which he is doing on the Free Fringe and comes with a health warning: "May contain an Arnold Schwarzenegger impression that goes on for possibly 15 to 20 minutes too long."
If we go back further there are other former Comedy Award winners floating about too. Will Adamsdale (2004), who has shuttled between stand-up and acting since winning his award, has a new piece called Borders – "Borders over land, across time, down the side of the piece of paper I'm writing this on…" he says on his press release. Though he also admits the show might have changed by the time it opens.  Daniel Kitson (2002) at The Stand hardly needs or wants publicity from me.
And talking of acts that need no introduction, Al Murray (1999) is hosting a run of preview shows in the run-up to his UK tour, as is Frank Skinner (1991). Both are playing much smaller venues than they will be after August. So while you should obviously go out and see all-new comedy, the Fringe is also rare chance to see big old comedy is a small setting. Grab the chance before it slips through your fingers.