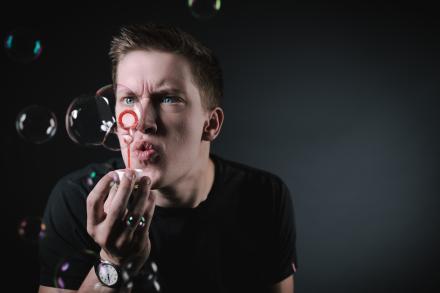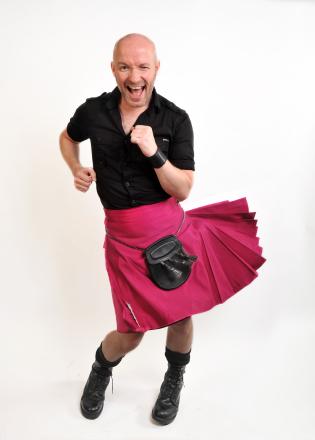 Update: Daniel Sloss has now added a Sunday matinee show on December 13. Details and tickets here.
Ironworks in Inverness is to stage two nights of live indoor comedy in the run-up to Christmas, with social distance seating, table service and full Covid-19 safety protocols.
Friday 11 December 
"CRAIG HILL + FRIENDS with special guests JoJo Sutherland & Gareth Waugh"
** Will contain some adult language and content, Ages 16+
The first night features Craig Hill (pictured in kilt), who the The Scottish Sun called 'Comedy Royalty' earlier this year.
Craig's special guests are JoJo Sutherland. who stormed audiences all over the UK on the massive Jonathan Pie tour and won the 2020 Scottish Comedy Award for Best Show. Plus Gareth Waugh, who has appeared in the BBC's "The Good, the Bad and the Unexpected", "Breaking the News", "Comedy Underground" and "Scot Squad".
Limited seats available. Tickets on sale now here.
Sunday 13 December
"DANIEL SLOSS + FRIENDS with special guests Kai Humphries & Ryan Cullen"
** Will contain some adult language and content, Ages 16+
Sunday's line-up features one of the biggest global comedy names to come out of Scotland - star of two specials on Netflix plus one on HBO, Daniel's last tour sold out 300 shows around the world (including all over Europe, UK, US, Asia and even a Moscow arena), he has toured in over 50 countries, sold out six New York solo off-Broadway seasons, and appeared on US TV's 'Conan' a record ten times. His two Netflix specials 'DARK' & 'Jigsaw' are streaming in 190 countries and the film of 'Daniel Sloss: X' was the first UK comedy special to premiere in cinemas, with a nationwide release at Vue and is showing on HBO in Canada and the USA.
Joining Daniel (pictured) are two of his best friends and flatmates who also happen to be top stand-up comedians - Kai Humphries, who has toured around the world with Daniel to over 50 countries and is a high-octane, likeable Geordie and Ireland's Ryan Cullen, stand-up comic and writer for RTF's Republic of Telly. 
Please note this is not Sloss's latest stour how HUBRiS.
It will contain adult material, swearing and is not for any easily offended.
Limited seats, book fast. Tickets available here.
Doors 8pm
Shows 8.30pm
* due to Covid-19 considerations, late comers may not be permitted entry
* Reduced social distance capacity, book your bubble early.
Please check venue Covid-19 terms & conditions here.  
IRONWORKS - 122B Academy St, Inverness IV1 1LX
Daniel Sloss Picture: Troy Edige
Craig Hill Picture: Steve Ullathorne