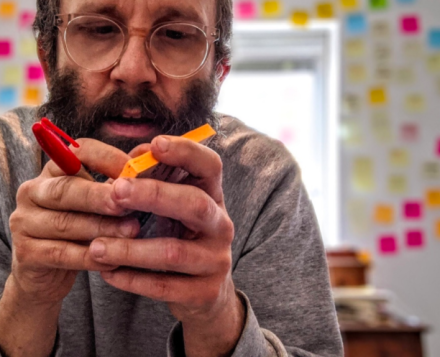 Daniel Kitson is to perform his acclaimed new show, Dot. Dot. Dot. in London. The show will take place at the Union Chapel in Islington on Tuesday, December 1, but as with his recent acclaimed 'tour' he will perform to an empty theatre and the number of tickets sold will be limited to the capacity of the venue. 
Kitson has asked fans to buy one ticket per person rather than, per household -  "the show is still being written and may develop in a direction where it is best experienced individually on individual devices".
Here is some blurb:
"I have not been operating within the guidelines and I have not been guided by the science and I have not come out the other side stronger or wiser or better for the experience. I didn't eat out to help out and I didn't become a parent and I have not made use of a reciprocal travel corridor. I haven't moved out of London and I haven't volunteered for anything and I haven't attended a socially distanced outdoor performance of Educating Rita.  I didn't keep going to work and I didn't work remotely and I did not use this time to work on my physique.
I haven't done laps of my garden and I haven't put myself in harms way and I have done nothing to support the British hospitality industry. I did not miss out on medical treatment. I did not learn a language. I did not postpone a wedding. I did not book a staycation in Cornwall or the Lakes or somewhere on the Kent coast. I didn't march and I didn't go swimming and I didn't get tested and I did not "read more". I've not been on a boat. I've not been shielding, I've not been struggling with childcare, I've not been playing football on Tuesdays, I've not been killed and I've not been attending gatherings of up to six households. I haven't lost my job, I haven't attended a funeral, I haven't used a foodbank and I haven't touched my parents since Christmas."
All tickets will be £10 and go on sale at noon on Saturday, November 28, here.