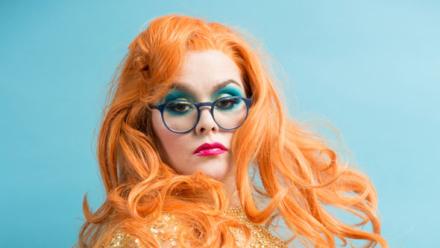 Jayde Adams aka 'the 3rd funniest woman in the world' (Dawn French) is a Bristol born comedian and entertainer who used to work in Asda. Jayde has shot to stardom due to her innate confidence, cracking singing voice and unique personal take on modern life. With three powerhouse Edinburgh shows behind her and a blossoming presenting career on TV she has shot from the fish counter at ASDA to fully fledged diva and is keen to tell everyone about it.
 
Jayde has a classic case of 'you can take the girl out of Bristol, but can't take Bristol out of her' - she says what she sees and is unapologetic about it. It's part of what's got her where she is today - a working class girl riding high on the often middle class wave of show business. She's an upstart, she's new money, she's wearing a sequined dress and singing at you while lying across a piano. But beyond all that, she's a (relatively) normal person with a fascinating journey.
 
In this special, Jayde combines her wit and world class set of pipes with show-stopping music by Olivier Award winner Richard Thomas (Jerry Springer: The Opera). Jayde will give her unique slant on class, body positivity and being from Bristol. Weaving her hilarious brand of entertaining yet personal stand-up with catchy numbers, Jayde's main aim is to bring out the diva in all of us, not just the few. It's dying to escape, and who are we to stop it?
Tickets for this special recording are limited and will be allocated on a first-come first-served basis.
Successful applicants will be invited to watch and listen to the live recording using Zoom.
Date: Tuesday  8 December
Online access from:  7pm
Live recording starts: 7.30pm
In order for the BBC to be able to record reactions throughout, you will also be given access to the Virtual Audience Recording system, which will need to be opened in an up-to-date version of Google Chrome on a PC or Mac (tablets and phones are not currently supported). You will be able to hear reaction from all other audience members live, so even though you are probably sitting at home, there will be the feeling that you're part of a live audience!