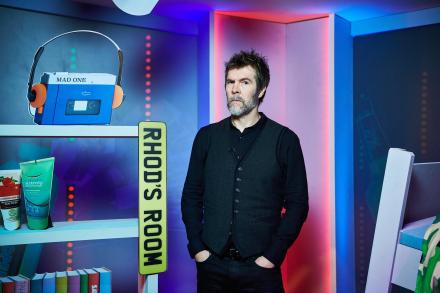 Comedy Central UK has greenlit brand new comedy commission 'Rhod Gilbert's Growing Pains', hosted by, you guessed it, Rhod Gilbert

The six-part series, produced by Rumpus Media, will involve celebrity guests revisiting their teenage years. Each celebrity will take a trip down memory lane; competing across fashion, pop culture, retro gadgets, first loves, school reports and more to get their teenage years recognised as the most embarrassing by comedian Rhod Gilbert. With mystery guests popping up along the way, offering up further revelations the show celebrates those ultimate embarrassing teenage moments, and it's down to Rhod to judge which celebrity should be crowned 'winner'. 
Sebastian Cardwell, Deputy Director of Programmes at ViacomCBS Networks UK commented: "I'm excited to be teaming up with Rumpus Media again for our next comedy commission. Rhod Gilbert is the perfect host to delve into the teenage lives of our celebrity guests. I can't wait to see what embarrassing revelations come to light!"
Rhod Gilbert said: "I was a very cool teenager, making one good decision after another…fashion, I got it just right, my hair was always great, love was one smooth happy ride after another and I had great taste in music, books and Kay's catalogues.  But not all my guests were like me, and I want to hear all about their traumatic teens and adolescent aberrations - the good, the bad, the hormonal and the lock-yourself-in-the-toilet embarrassing."  
Rhod Gilbert's Growing Pains will air on the channel from Tuesday, January 12 at 9pm.
This will be Cardwelll's fourth commission for Comedy Central UK since his role was expanded across the ViacomCBS portfolio earlier this year. Comedy Game Night, which first appeared on Channel 5 as Celebrity Game Night, debuted on Comedy Central in September, Guessable? launched in October with Sara Pascoe as host and most recently, Channel Hopping with Jon Richardson, which is currently airing on the channel.
Iain Wimbush, Rumpus Media Joint Managing Director and Executive Producer said: "It's been an absolute pleasure working on Rhod's particular take on teenage life over the last 30 years.  It's a proper escapist treat."
Rhod Gilbert is on The One Show on Tuesday, January 12.