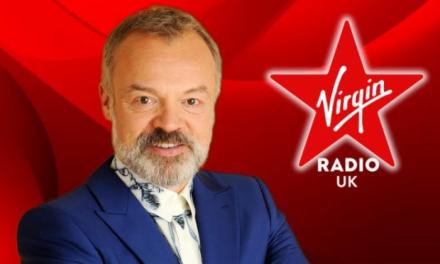 Graham Norton is joining Virgin Radio to host two new weekend shows on Saturdays and Sundays.
The broadcaster announced he was leaving BBC Radio 2 last week
Graham Norton said: "I am excited and a little surprised to be joining Virgin Radio UK in 2021. I was very content where I was but the opportunity to host shows across the weekend seemed too good to miss out on. Plus the energy and enthusiasm at Virgin Radio are infectious and I can't wait to get started! Did I mention the studios are very close to my house?"
Norton has won BAFTAs, National Television Awards, and International Emmys. His ongoing TV chat show career started on Channel 4 in the late 1990s with So Graham Norton.
He has been hosting the Eurovision Song Contest for over a decade, and most recently, appeared as a judge on RuPaul's Drag Race UK. He is also a Sunday Times Bestselling author of two hugely successful memoirs and three acclaimed novels. 
Graham joins Chris Evans, Kate Lawler and Eddie Temple-Morris who all host shows on the station.
News of Graham's replacement at Radio 2 is due soon.
His new weekend shows on Virgin Radio will launch in the new year.