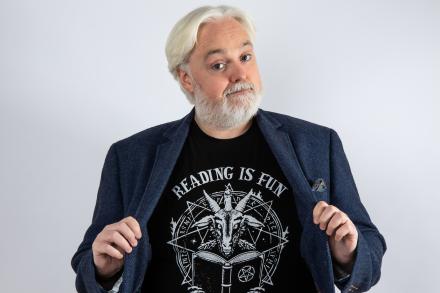 Caimh McDonnell has launched a new podcast called The Stranger Times. Each episode features short stories written by Caimh under his new pen name of C.K. McDonnell and narrated by some of the UK's finest comedians. These include Laura Lexx, Hal Cruttenden, Matt Green, Toby Hadoke, Alex Boardman, Barry Castagnola, Lou Conran, James Cook and Ben Crompton (Game of Thrones, Strike, Ideal), with more to come.
The podcast has been developed to provide a listeners with a taste of the world of The Stranger Times. The book, to be published in January 2021, is the first in a series of supernatural thrillers centred around a struggling Manchester-based weekly newspaper dedicated to reporting weird and wonderful news from around the world. The podcast is being launched in conjunction with the www.TheStrangerTimes.com website, which features spoof paranormal news written by McDonnell with additional material by other comedians. 
Caimh explains how he came up with the idea; "What with 2020 being the unremitting full-blast firehose of excrement it has become, I'd a lot of time on my hands and writing short stories became an excellent way of avoiding learning to bake banana bread. Once I had them all, the idea of getting them narrated by some of the wonderfully talented people I know from the comedy circuit seemed too good not to do. Luckily, they were all at a loose end due to the aforementioned tsunami of effluent, so it worked out great for everybody and all involved are getting paid as they absolutely should be. Comedians make superb narrators and I've no doubt that several of those involved will go on to narrate audiobooks in the future, which is just as well as I believe all the jobs in cyber have now been taken by ballerinas."  
The first two episodes will be available on Tuesday 10th of November and can be downloaded from where you normally get your pods or visit www.TheStrangerTimes.com to find out more.
Pre-order The Stranger Times here.