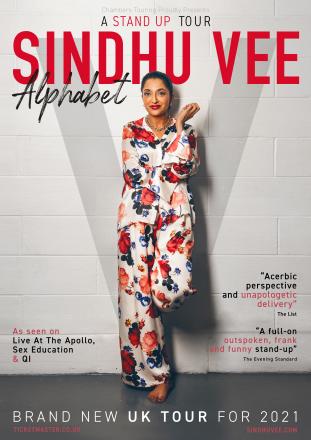 A version of this interview first appeared in the Evening Standard in late 2018, the year that Vee picked up an Edinburgh Comedy Award nomination for Best Newcomer for her first full-length show Sandhog. Since then she has been on a veritable roll, becoming a regular face on television and voice on radio, appearing on shows ranging from Live at the Apollo, Mock The Week, QI and Have I Got News for You to Channel 4's award-nominated sitcom Feel Good and Netflix's Sex Education.
And things are looking even better for the future. Vee has just announced a 2021 tour entitled Alphabet. She says that he show is about the hair we want, the friends we have, and living the vast difference between virus and viral. Expect razor sharp, unapologetic stand-up from one of comedy's most engaging talents. Details of the tour and ticket links are here.
You can also see Vee on The Jonathan Ross Show tonight on ITV1 alongside Rob Beckett. And you can read the original article here.
Imagine you have everything you want. An extremely well-paid job. Three young children. A loving husband. A nice house. What do you do next? For Sindhu Vee the answer was an unexpected change of career to become a stand-up comedian.
Not that she realised that at the time. Vee — full name Venkatanarayanan — has just had a remarkable 12 months. Her debut series, Sindhustan, aired on Radio 4, she has appeared on Have I Got News for You and QI and this summer she was nominated for Best Newcomer at the Edinburgh Fringe for her autobiographical show Sandhog, which transfers to London in January. Not bad for someone who six years ago "knew Thomas the Tank Engine but did not know who Eddie Izzard was".
But then Vee's path towards comedy has not been a conventional one, as she explains while sipping a herbal tea in the Ivy in Kensington. Now in her early forties, she studied in Delhi, Oxford and Chicago and was a high-flying bonds tradeswoman in London. But then she had three children and decided to give up her job to look after her children. "But leaving wasn't very easy. I cracked up." She takes another sip and doesn't mince her words. "I went bananas."
She had hoped that being a stay-at-home mother would be the solution, but there was something missing. "I was at a low point. I didn't want to be a banker but I didn't recognise that I had a loss of identity. I felt a massive loss. Where is my space? It used to be 
Canary Wharf
, university." And then she found her space. It was onstage making audiences laugh.
It transpires that she got into comedy by chance. "I got an email from someone who said she was doing stand-up and she was one of the least funny people I knew." If they could do it, Vee thought, why couldn't she? "My first performance was a heat in the Funny Women competition in 2012. I got offstage and never looked back. I was home. I cannot tell you how grateful
Whatever she does she always puts everything into it. "I intended to be a full-on rock-star banker if I stayed on." Instead, she is a full-on outspoken, frank and funny stand-up. She puts her determination down to attending a strict convent school in Lucknow, India. "Everyone was scared of the Mother Superior. I never looked up and saw her face, I just remember that she wore white socks and carried a rosary. It taught us about devotion."
Her family pushed her hard as well: "[My mother] used to say 'Practice, practice, practice. Even a fibre rope can make a mark in stone if you pull it enough'." Roger Federer did not get good by not practising when he didn't feel like it. I'd always think of that when it was cold and wet and I had a gig."
The banking experience has stood her in good stead too. "Both jobs are competitive. When you meet a client you have to gauge them and reading an audience is the same. And you have to have a thick skin in both." She has had her share of social media abuse, particularly after appearing on television, but banking helped her to develop a thick skin. 
Comedy seems to be the perfect fit for Vee, who is tall and elegant and immediately makes her mark onstage with her vivid, droll stories about her extended family. If comedy was a happy accident maybe banking was an unhappy accident. "I never intended to be a banker. I studied philosophy and wanted to be a professor." But she was offered a City job in London, relocated from Chicago and things moved fast. "Within 18 months I'd got married." She was still barely into her early twenties: "But super-old by Indian standards!"
She loved her job until she had children. "It paid well but it was breaking my heart. I thought I'd have four kids, four nannies and carry on. But I had a baby and thought I want to be with this baby all the time. Instead, I went back to work and was unhappy."
At first she did not tell her husband, who is Danish and also works in finance, about her stand-up ambitions. He thought it was a hobby when she slipped out of their St John's Wood house to go to clubs after the kids were in bed.
But Vee does not seem like the sort of person who does anything casually. "It's like when you try to protect a candle from the wind by cupping your hands around it. I was protective but it was very energising." Eventually, when she started gigging more frequently in 2015, she confessed and he supported her: "He said, OK, but maybe he didn't take me seriously."
It is not the first time her life has gone off at an unexpected tangent. When she was a teenager growing up in India she was spotted and asked to model for Yves Saint Laurent. At 5ft 10in she certainly stands out. "I've only ever met one other Indian woman taller than me, though women are getting taller now. It's no longer a circus-worthy event." They suggested she could have a successful international career. "But my father, who was a civil servant, said 'No, you have to do something with your brain.' They wanted me to go to Paris; my parents barely let me go to Delhi."
She no longer has to do what her parents say when it comes to work and has now found her true vocation. "The funny thing is when I look back on my childhood I did puppet shows and was always telling jokes. And my father was always quoting PG Wodehouse with his friends so there was humour there. I'd forgotten all about that. So maybe I always was this person."
Things are going pretty well for Vee: "It has gone very well. I feel incredibly lucky that I found this. Comedy is like a fire in my belly. This is hard work but it's my calling." She finishes her drink and orders another. "Comedy saved me. Although I should add that my husband and kids have helped too!"
Picture Design: Jiksaw.jpg