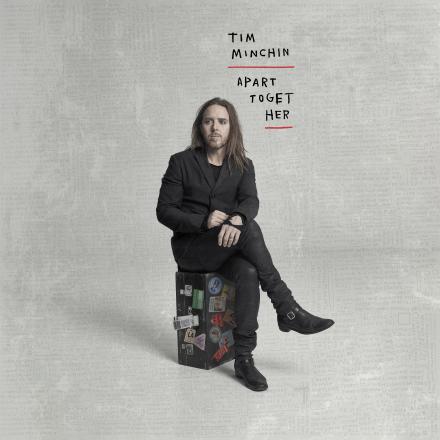 Featuring some extraordinary guest musicians, 11 songs, and whatever pours out of his brain in between, Tim Minchin today announces that he will perform the entirety of his new album, Apart Together, in a one-off concert from Sydney's iconic Trackdown Studios. The special one-off concert will be streamed and available to watch from 7pm local time in Australia, U.K. and USA consecutively on 19 November to celebrate the record's release on 20 November and will be available exclusively to ticket holders for 48 hours only.
Tickets will be available from Monday 2 November at 12pm here.

Tim says: "I've been thinking a lot about how to make live entertainment in this no-live-entertainment world, and - as always - how to make a virtue of the restrictions placed on us as artists. And I've concluded that we have a fantastic opportunity to make a new style of "live" concerts. Not like the old model, where cameras are inserted into seats in an audience, or put on the shoulder of a camera operator dressed in black, skulking around the edges of the stage, pretending they don't exist. But instead, I want to bring the audience into the room with us. I want the viewer to feel like they have been invited into the studio to watch the final dress rehearsal for a concert and have been given permission to stand in amongst the band, to sit down next to me (ewww), to be completely inside the experience.
This album we've made really lends itself to this sort of performance: the songs tell stories that ask the listener to stay engaged with every lyric; they are generally very personal; they vary in style from proper all-out rock-pop tracks to seriously intimate ballads. I really hope people settle in with a really good set of speakers, a really good friend or two, and a really nice bottle of wine, and let me see if I can't give them an online performance that isn't quite like anything they've ever seen. Oh. That sounds like porn doesn't it. *It's not porn".
To coincide with the announcement of the highly anticipated concert stream event and ahead of his long-awaited studio album Apart Together, set for release on 20 November via BMG, Tim Minchin has today revealed a new track 'The Absence of You' accompanied by an official visual.
 
Minchin's signature storytelling vocals infiltrate the stunning piano ballad, building to a powerful chorus that sits deeply within the listener. Each single release has unraveled another story; embedded and woven into the creation of the globally anticipated release of Apart Together. Listen and watch the official video for 'The Absence Of You' [HERE].
 
"In this weird year, we're more aware than ever that the absence of a loved one can, in a way, be as impactful as their presence. This is a song about that, I suppose. It's also a frickin banger." said Minchin. 
 
Tim Minchin also sings, writes and stars in eight-part Aussie road-trip comedy Upright, which aired to critical acclaim and arrives on DVD and digital in the UK on 23 November. Minchin leads the irreverent series as the ironically named Laclan "Lucky" Flynn, a down-on-his-luck middle-aged man making the trip across Australia to deliver an old upright piano to his dying mother. In a dramatic twist of fate, his path collides with teenage runaway Meg (Milly Alcock), who has some secrets of her own. Set against a backdrop of stunning outback scenery, this unlikely pair throw in their lot with each other and slowly reveal, through a series of quirky happenings along the way, what each of them might be running away from, and what they're seeking on the road. Juggling grief and complex family dynamics with gleefully dark humour, this series has been called 'Addictively good' ★★★★ The Guardian, and 'Near-perfect television…a treasure trove of nuanced emotions' ★★★★ The I Paper.
 

'The Absence of You' is available for purchase and stream on all platforms.
 
Tim's forthcoming album is set for release on 20 November, available to pre-order [
HERE
]

.
 
The official artist store features exclusive merchandise bundles and signed formats including limited dual coloured vinyl.