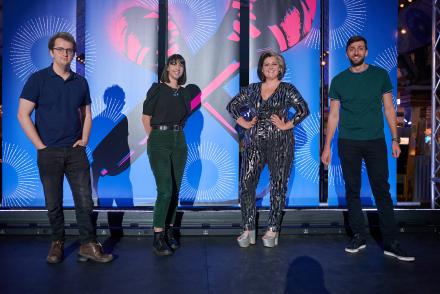 Kiri Pritchard-McLean is the host of the latest edition of BBC Three's Stand Up For Live Comedy. It is available on iPlayer now here and on BBC1 on Monday, Octobee 26 at 10.45pm too. It was filmed in Margate. 
As well as McLean MCing, the guests are Vlad Ilich, Jonny Pelham and Priya Hall.
Below McLean discusses stand-up in the Covid era and making the show.
Why do you feel Stand Up For Live Comedy is an important show for right now?
It feels like stand-up comedy hasn't been stood up for in terms of government funding and we were one of the first professions to go because obviously our job is reliant on groups of people packed into little rooms. That also means it was one of the last jobs to come back. During lockdown everyone was using comedy and the arts in general as escapism but live performers were left out in the cold really. So I think a show like this which showcases 'Look at how much talent we've got, turn up and turn out for it' is a really great thing.
Does it prove that live comedy can be done well within the restrictions in place?
I think it does, actually. I did the first DCMS government trial at the Frog and Bucket in Manchester, where it was all socially distanced to see if venues could open again. Everything was passed with flying colours, the audience felt safe, the performers felt safe, the feedback was great, then they panicked and said that actually comedy clubs couldn't reopen after all. It's been such a state of flux, not just for the venues which have been hit really hard but also for the performers - to suddenly be given some live work and to be able to go 'Great, I can pay my rent this month', then to have it all taken out because of the latest daily briefing. Obviously promoters get very scared and they don't want to shell out a load of money on advertising, then have nobody show up. But Stand Up For Live Comedy shows that it can be done. If safety is at the front of everyone's mind, which it definitely was for these, it shows you can still have a brilliant night of live comedy where it's socially distanced, everyone can feel safe and still have a great night out. It should be a real priority to make that happen again because we have one of the best comedy circuits in the world. We should be doing everything we can to get it back on its feet.
How have you been keeping yourself busy over these past few months?
I have been doing some online gigs and running an online comedy club from a virtual pub called The Covid Arms. We did that every single week of lockdown for the first 14 weeks, I think, and we've been using that to pay out-of-work comedians and to raise money for the Trussel Trust. So far we've raised just shy of £115,000 for the trust as well as giving a big chunk of money to out-of-work comedians. What's been beautiful but also scary is that the comedy circuit has rallied round and looked after itself. Comedians are making work for comedians but it shouldn't have to be like that. We are resilient but it would be nice not to have to be this resilient.
You recorded your episode of Stand Up For Live Comedy at Dreamland Margate. Were you already familiar with it?
I have never been to Margate but I love it. It's got a touch of Blackpool about it, and I'm huge fan of Blackpool. I'd never been to the venue either but it's absolutely amazing. I would love it if it was on my doorstep. It's so cool. I don't want to be gross but I'm gonna say it: It's very Instagram-able. Everywhere you look it's really cool, like fairground rides and arcades. I would have absolutely killed for something like that as a kid growing up.
How is it being back on stage in front of live audiences?
It's like being brand new again in that you're just terrified and you feel like you forgot how to gig. You really don't feel like you've got your sea legs. We'd just about gotten our heads around doing it online, but in person it's a completely different experience and the buzz you get afterwards is something else. I do worry, though, that I'm like an enthusiastic puppy, yelling in the audience's faces because I'm just so glad to be back performing for actual people.
How are you handling all the precautionary measures?
I think it's probably a good thing that we've all sort of naturally started to keep our distance, keep our face masks on as soon as we're off stage, washing our hands and having hand sanitiser everywhere. A few of those things are not bad habits to get into. I'm a hugger but I know some people aren't, so at least it avoids the awkwardness for people who aren't huggers when people like me launch themselves at them and try and put my arms around them. Now they can go 'We have to socially distance' as opposed to 'Stop hugging me you weirdo, we've only just met!'