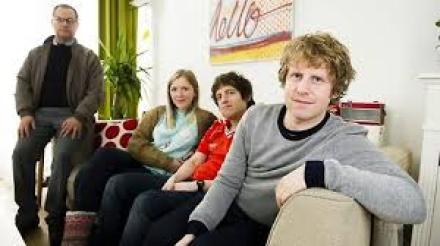 Can you ever reinvent the flatshare sitcom? Or to be more precise, can you reinvent it in 16 minutes? Or to be even more precise, can you reinvent the flatshare sitcom in 16 minutes in a BBC pilot that isn't actually being broadcast on the TV, going out, initially at least, only online? Well that's kind of what Josh Widdicombe attempts to do in his new one-off for the Comedy Feeds strand, entitled Josh.
I heard about this project earlier this year when I interviewed Widdicombe. Given the domestic setting, the eponymous title and the fact that someone somewhere (maybe me) once lazily dubbed the ginger-haired Devonian the English Seinfeld, I expected a fairly predictable observational sitcom. I was partially right, but I was also very wrong. 
Josh, co-written by Widdicombe and fellow comic Tom Craine and directed by David Schneider, is actually very good and quite original. Of course it has its derivative moments.  Don't be put off by the corny Woody Allen-ish jazzy theme tune. And landlord Geoff, played by Jack Dee, is something of a needy Rigsby. One can imagine Widdicombe and Craine sitting in the writing room trying to think of a way to make him less like Rigsby, so they made him obsessed by Rachel Stevens, which helps a bit, but not much. Jack Dee is very good though. In fact there's a hint of Rising Damp about the whole set-up, albeit with better furniture.
The co-stars are pretty good too. Another quality comic Elis James plays unashamedly Welsh live-in chum Owen and has a nice line in eccentric dating advice: "Girls love a fortified wine." Beattie Edmondson is effective enough as the third lodger to erase the memory of her appearance in The Wright Way. Her dad Ade, of course, was in The Young Ones, so she ought to know a bit about youthful flatshare comedies via a mix of DNA and osmosis.
Best of all is the clued-in script and the structure, which echoes the way that Curb Your Enthusiasm and, yes, Seinfeld, always neatly tie all the loose ends together. It also shows the writers' stand-up roots with some quick callbacks and pay-offs, but they are clever ones that you may not spot being set up. Well, I didn't anyway, though maybe there is something about watching a comedy on an 11inch laptop that means it doesn't get the same undivided attention as it does when watched on a 36inch plasma screen.
Hopefully Josh will turn up on TV, but it'll have to be quick about it as BBC3 is set to go online in 2015. Does it reinvent the sitcom? No. Will it make you laugh? Yes.
Watch Josh here.