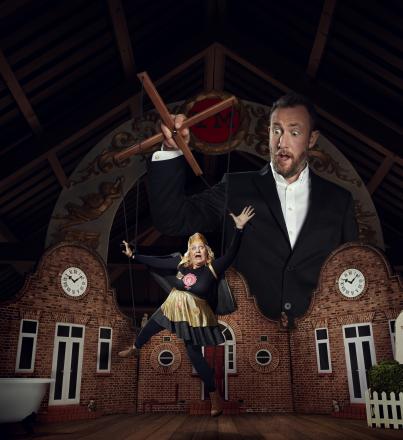 Taskmaster moves from Dave to C4 for its latest outing. The format remains the same, with Greg Davies and Alex Horne setting competing comedians a succession of bizarre challenges.
This year's line-up is Daisy May Cooper, Johnny Vegas, Katherine Parkinson, Mawaan Rizwan and Richard Herring.
Below This Country star Daisy May Cooper discusses her experience of taking part in the tenth series.
Taskmaster starts 9pm tonight (Thursday 15th October) on Channel 4. Catch series 1-9 on All 4
Why did you want to sign up to Taskmaster?
I absolutely love the show and my agent is a huge fan so there was no question really.
It's like the last day of term at school when you are allowed to f*** around and the teachers can't be bothered to set you any work.
As a fan, was taking part how you expected it to be?
No, it's a lot harder. At home you're shouting at the TV thinking it's really obvious how to do the task, but when you're actually in it your mind goes completely blank and you have limited time to make a decision and so you just go with it. 
I have learned more about myself in this short time than I have in 33 years.
What has surprised you about yourself?
Just that possibly that I am as big a f***-up as I thought I was. But I have learned that I do make decisions quite quickly: whether they're right or not is kind of by the by.
Did you have any strategy going in?
It was to not waste any time over-thinking things, just to dive in and see what happens. Sometimes it worked but a lot of the time it didn't.
How do you think you come across?
As the toddler who makes rash decisions.
Are you thinking about being funny or are you just going for it?
No, what's sad is I was genuinely trying to win this. I got more competitive as it went on, but I think the harder I try, the funnier it is to other people. Any humour was absolutely not intentional.
How competitive are the others?  
Everyone is absolutely brilliant and I tell you what, it is weird how competitive you start getting, especially with the live task you do on the stage all together at the end of the episode. Everyone wants to win.
There was a task where we had to roll a piece of food down a pipe and Katherine was acting like it was an Olympic sport so then I started taking it seriously too. We both rolled a scotch egg down a pipe and hers actually won but they mistook mine for hers and I was willing to let them mistake it for hers. That's bad isn't it? I was happy to cheat.
So, you have been surprised by how seriously you take it?
Yes, absolutely. If I won a task I'd phone my husband just so excited, and he'd want to tell me all about what my two-year-old has been up to, but I just wanted to talk about myself and the tasks. It's a bit like The Hunger Games. I love those types of films. I always wondered what I would be like in that type of situation.
Did you know any of your fellow contestants beforehand?
Not personally but I was a massive fan of Katherine and Johnny Vegas. I didn't know Mawaan or Richard, but I've since looked up their work and am now massive fans of theirs. It was an amazing group to do it with.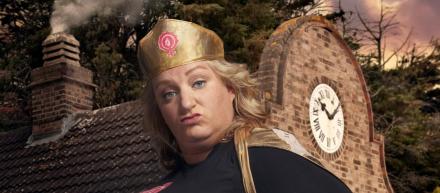 Is there any difference between the way the different sexes or the different age groups approach tasks?
No. Katherine and I are the two women but we couldn't be more different in our approaches to things. It's brilliant because when age and sex come into it we all did things so differently and used our flaws to our advantage. 
Does your day job of acting help with some of the creative tasks?
I thought it would but apparently not, which really p***ed me off. So, it does take you by surprise. There's one thing that f***d me off, though. I thought I made a really good upside-down film. It was a stop animation and I was so proud of it. I thought it was Sundance Film Festival quality and it came second to last and that really upset me. I'd been thinking it was going to wipe everybody out of the competition and I can't believe it didn't.
It's the actual prize tasks that I was the most shocking at. My level of creativity was appalling: everyone else came up with these brilliant ideas and mine were the most base. I was terrible at that and I am annoyed at myself.
Greg wasn't impressed at you bringing in a crumpet…
Well it was the best thing with holes in it, which is what he asked for, and I went for the most obvious. I thought I was playing Family Fortunes.
On another day Greg might have loved it. You can't play him can you?
You can never second guess what he is going to like but I was crying with laughter because of him. I was worried I would be giving birth because I laughed so much over those few studio days.
Were you pregnant when you filmed the tasks, too?
Yes, I was. I found out the second week in. It didn't stop or hinder me in any way, shape or form; I still gave it my all.
I wondered if that surge of hormones might have given you a boost…
Oh yes! I definitely think that had something to do with it. And aggression. Any aggression I couldn't take out on my husband I could just take out on the games.
How do you describe the relationship between Alex and Greg?
I'm picking up on some sexual tension there, actually. There's definitely something going on: a submissive and dominatrix thing. It is a symbiotic thing.
Alex is very open about his love for Greg. You think Greg is hiding his love for Alex?
Yes, definitely. It's like boys at school who push over a girl they fancy. He absolutely adores Alex.
What has your relationship been like with Greg?
Like a gob-shite school kid with a geography teacher.
And does that reflect how you were at school?
Near the end. I was terrified of authority at first but once I had screwed up my mock exams I just thought f*** it and drew cocks on all of my school books.
How would you describe your relationship with Alex?
Alex is a bit like a supply teacher where you have absolutely no respect for him but you feel like you can go to him if something is wrong because he is gentle. He was really helpful but he is just very weak.
Was there a task you were particularly bad at?
There was one where you had to listen to something that had been recorded backwards and then draw the picture of what the person was saying onto a tea pot that was spinning on a… it is as complicated to talk about as it was to do. Anyway it was absolutely insane and I gave up half way through because it was impossible.
How did you get on with the sporty ones?
I wasn't too bloody bad! The athletic ones, weirdly, I was quite good at. It's the creative ones I wasn't so great at which I wasn't expecting at all.
Did you get any advice from previous contestants?
My agent is with Frank Skinner who was on the very first series so I got a few things from him about thinking about things before you approach them, but I didn't take his advice on at all because I panicked. I tended to do the worst thing you can do which is skim-read the task.
How would you sell Taskmaster to anyone who hasn't seen it?
It's like putting the class clowns against each other in The Hunger Games. That is the only way I can describe it.
What are you up to next?
Charlie and I did try doing some writing during lockdown but having a two-and-ahalf-year-old, it was too much so it thought nah, I'm just going to watch Frozen for the 1000th time and play shops which is possibly the most boring game in the world.
As for what's next I guess I am going with it and will see what this baby is like and whether he is an a***hole or not. And if he is then I will be working away somewhere I imagine.
You've spoken about possibly doing a This Country film: is that on hold now?
We definitely need space away from it. I'd love to think maybe in the future we will do a Christmas special, but Charlie and I are desperate to get our teeth into a new project.
What with the BAFTA and your role in David Copperfield, you've had a pretty good year…
Bonkers! You know what? It's just nice being able to not worry about paying my phone bill or council tax. Or going to the shop and hoping your card doesn't get declined. You think money isn't going to make a difference but it f***ing does, it gives you a freedom and it's so liberating. I am so grateful every day that I don't have to worry about that anymore. 
Interview supplied by publicists