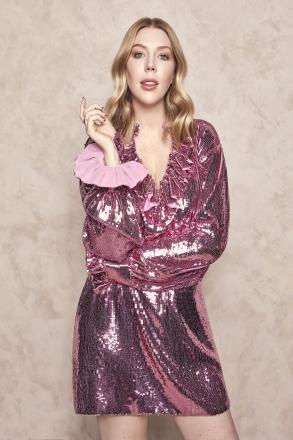 Star of Netflix hit The Duchess (along with two global Netflix comedy specials: In Trouble and Glitter Room), comedian and TV's Katherine Ryan makes a hugely welcome return to the stage with her brand-new live show Missus. The tour starts in Crawley on September 2, 2021. Details here.
Having previously denounced partnerships, Katherine has since married her first love… accidentally. 
A lot has changed for everyone, and we can look forward to hearing Katherine Ryan's new perspectives on life, love, and what it means to be Missus.  
Katherine Ryan is currently dominating the television and live comedy scenes, both in the UK and abroad. Her debut Netflix sitcom The Duchess was released in September 2020. Katherine not only stars in the lead role, but also wrote and executive-produced all episodes. The series has amassed a legion of fans and some fantastic reviews. The Times remarked: "Every other line is a perfect stand-alone haiku of comic brilliance", Camilla Long of The Sunday Times wrote: "It's a savagely rude and whip-smart sitcom based on Ryan's experiences as a single mother, and I devoured it in one sitting".
The Duchess follows two acclaimed stand-up specials for Netflix – the second of which, Glitter Room, was released globally on 1 July 2019, following 2017's In Trouble. Katherine was only the second UK-based comedian to get a Netflix Global 60' special released in all territories after Jimmy Carr – and is still the only woman.
Katherine will soon be seen hosting the primetime BBC Two talent competition series All That Glitters, which features eight talented jewellers going head to head (a Bake Off for jewellery making). 
She will also soon grace our screens as Joan Rivers in When Joan Kissed Barbra, opposite The End of the F***ing World's Jessica Barden as Barbra Streisand, for Sky Arts' Urban Myths series. It will be available in October on Now TV as well as Sky Arts. 
Katherine also has an acclaimed, hugely popular podcast entitled Telling Everybody Everything,which began life at the start of lockdown and hasn't yet been out of the UK Comedy Podcast Top Ten. It is hosted by Acast. 
She has co-hosted six series of Comedy Central's smash hit show Your Face or Mine, with Jimmy Carr, and has judged four series of Comedy Central's hit show Roast Battle. Earlier this year, Katherine was a team captain on E4's 8 Out of 10 Cats series 22, along with fellow team captain Rob Beckett (who is on The Jonathan Ross Show on Saturday, November 7, on ITV1) and host Jimmy Carr. She hosted the marquee all-female 8 Out of 10 Cats Does Countdown Special (C4) in 2018, and has been a regular contributor on Cats Does Countdown for many series. She also co-hosted Channel Four's tentpole Alternative Election Special with Krishnan Guru Murthy in December 2019.
Having been a treasured stalwart on British panel shows for many years, Katherine was a team captain on Netflix's first ever global comedy panel show The Fix – alongside host Jimmy Carr. She has made countless appearances on UK television, from the BBC's smash hit series Who Do You Think You Are? alongside hosting Have I Got News For You three times and appearances on Would I Lie To You?, QI and Live at The Apollo, to being a contestant on Dave's Taskmaster series 2 and the Champion of Champions Special.
Picture: Carla Guler
Buy tickets here.