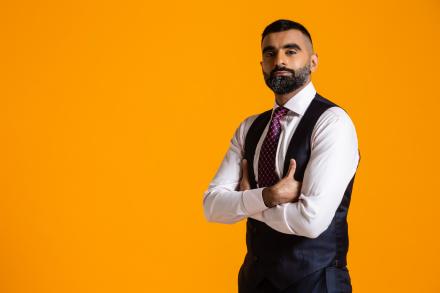 Little, Brown Book Group has acquired world rights to The Secret Diary Of A British Muslim Aged 13¾ from comedian Tez Ilyas. The book will be published in hardbook, ebook and audio on 8 April 2021, just before the start of Ramadan, and on Tez's actual birthday.
In Tez's suitably dramatic rollercoaster of a teenage memoir, he takes us back to where it all began: a working class, insular British Asian Muslim community in his hometown of post-Thatcher Blackburn. Running away from shotgun-wielding farmers, successfully dodging arranged marriages and having front row seats to race riots, you could say life was fairly run of the mill. But with a GCSE pass rate of 30% at his school, his own fair share of family tragedy around the corner and 9/11 on the horizon, Tez's experiences of growing up as a British Muslim wasn't the fun, Jihad-pursuing affair the media wants you to believe. Well, at least not always.
The Secret Diary of a British Muslim Aged 13¾ shows '90s Britain at its best, and its worst. 
Emily Barrett, Editorial Director, said: "Tez manages to deliver breaktheakingly razor-sharp and yet utterly laidback comedy, and that style and sense of purpose is what makes this book both hilarious and important. There are very few books about the British Muslim experience – and even less about what it was like to come of age at a time of intense prejudice against the Muslim community. I'm so thrilled Tez is redressing that balance and that Little, Brown is the lucky publisher to help him do that." 
Tez Ilyas said: "I can't believe that little old me, from a school that had a GCSE pass rate of 30%, has been given the chance to write a book. I genuinely cannot wait for people (especially my fans) to read it. I really wanted to write this book to give people a trip down memory lane and to give a snapshot of what life was like as a young British Asian Muslim in '90s Britain. So much (too much?) has been said and written about us, I think it's time you heard from us?"