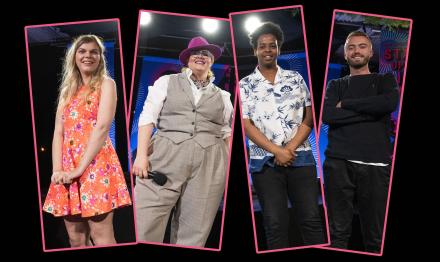 During lockdown both BBC and ITV announced that they were making stand up shows to give the country a laugh. ITV1 might have got their show on air faster, but Jonathan Ross' Comedy Club could learn a thing or two from BBC's Stand Up For Live Comedy, which has weekly episodes filmed in different locations, starting this week with Bristol.
Both shows have a running time of under thirty minutes but the BBC version only features a compere and three acts, so they all have a bit of time to breathe. The ITV version has six acts plus Ross and his wingman Mawaan Rizwan battling for screentime too.
And while both shows had to be filmed under new guidelines the Ross version has a sparse-looking, masked audience in a studio, while the BBC version has what appears to be a decent-sized crowd in an actual live comedy venue. The only area where ITV gives BBC a run for their money is in the quality of the acts. Both have been good job at picking the cream of the comedy circuit's rising stars.
The first episode of the BBC series, from Bristol's Lakota Gardens, is hosted by local star Jayde Adams who does an excellent job of getting the audience onside with banter about chucking statues in rivers, getting the sack from Asda and drinking too much Buckfast. It's classic compering and really helps to give the show a clubby vibe.
First act up was Mo Omar, who got some great laughs out of his background, coming from Wales and having Somali roots. He had an instantly likeable personality and style and his material about relationships - how we, for instance, hide our true selves for the first six months – landed really well. 
Second up was Lauren Pattison, who also talked a lot about her roots. And not just the roots of her newly blonde hair. In her case it was about coming from Newcastle – she was keen to stick up for a part of the country that she felt was often stereotyped. Despite not having gigged much recently for obvious reasons, Pattison was very sharp as she went in hard and fast with her short, snappy and very punchline-rich set. 
Final act Tom Lucy is another name to watch. He's still in his early twenties but has an easy manner onstage that suggests he is a natural comic. His material was clever and accessible as he discussed "coming in" to his family, who thought he might be gay because he was a bit camp. He also had a neatly-crafted running gag about Spotify playlists and how they used to be general lists but are now much more activity-specific. 
As with the Jonathan Ross show it's a shame that Stand Up For Live Comedy is so short, but of the two shows it is the better showcase for talent and also more fun to watch. And for many people tuning in, probably the nearest they will be getting to a conventional comedy club experience in the next few months. 
More details of upcoming line-ups here.
Available now on iPlayer and broadcast on BBC One on Mondays from September 28 at 10.45pm.