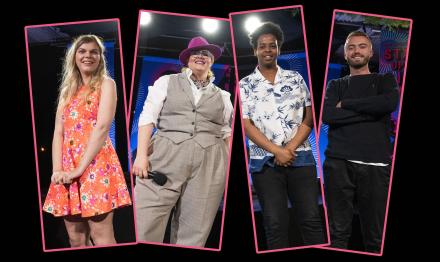 Stand Up For Live Comedy is a new BBC series that showcases the best rising stars in stand-up comedy. Each of the six shows comes from a different club and is hosted by a local comedian. The first show, filmed in Bristol's Lakota Gardens, is hosted by local legend Jayde Adams. The guests are Lauren Pattison, Mo Omar and Tom Lucy.
The shows are released on Fridays on BBC iPlayer and are aired on BBC1 the following Monday at 10.45pm.
Watch the first show here.
How would you describe Stand Up For Live Comedy?
It's a celebration of stand-up comedy, which of course has been hit quite significantly by the coronavirus and lockdown. It's also giving a lot of newer acts some time on stage because God forbid we've not had enough of that lately. There's a lot of comics who would have gone up to the Edinburgh Fringe Festival this year with maybe a debut show but they weren't able to. This is the perfect response and the wonderful thing about it is how it feels like how comedy was when I first started.
We're all in a courtyard, everyone's sat at tables, it's quite anarchic, lots of silly stuff happens and there was such a positive feeling from doing the show, which I really hope comes across when people watch it. It's really fun and quite punk. That's something about stand-up comedy I really want to hold onto, which is we're the people who say things that make you laugh and the things that make you laugh are often subversive. There was a real sense of that when we did the show and I really hope that comes across in the edit.
Why do you feel it's an important show for right now?
I think everyone needs to laugh. The entire word at the moment is in sort of dire straits and there are a lot of people who are quite scared. That's what comedians are for - we're there to make people laugh. We take the conversations and we make them funny so they're more palatable and easier to manage.
How have you been keeping yourself busy over these past few months?
My boyfriend [Rich Wilson] and I locked down, and we brought a friend into our place before that and he stayed with us for three months. We were like 'Let's do this online stuff' and I put on three big shows at Clapham Grand, which were broadcast live, with my boyfriend and Al Murray, and that was really fun. It was basically just saying yes to everything. Something I've noticed is that the things I had to do during lockdown were sort of how I started doing comedy, from 2008 when I was telling everyone I was a comedian even though I wasn't. 
What's the story there?
I was working as a waitress in a cocktail bar in Cardiff [laughs] and I think that's a song, apart from the Cardiff bit. I was living there after going to university in South Wales and I'd always been creative. I'd been on stage since I was five years old. I did disco dancing with my sister for 13 years and I went in and out of amateur dramatics in Bristol. I was doing a bit of this and a bit of that, and I was trying to be a contemporary dancer but there was a lot of getting on and off the floor, which isn't really my vibe
I had this boss in the bar who noticed I didn't really have a focus and she said to me 'What is it you like to do?' I said 'Well, out of all of the things I do, I love making people laugh' so she said to me 'From now on if anyone asks you what you do tell them you're a comedian'. So for about two years I told people I was a comedian. I wasn't even doing gigs but after a while I started getting booked. [Laughs] Where am I going with this?
You were talking about saying yes to everything…
Oh yes, of course, and there was a real sense of what I used to do - which is just to do it myself. I'm very useful on computers and I edit it and all of that. I was at home getting all this stuff done and just making sure I kept my foot in. As well as us providing a service to the audience to keep them happy during difficult times, there's also something in a comic that actually needs to stand on stage in front of a room full of strangers and make them laugh. We need that and it becomes more than a job.
This is more than a job for me, it's a way of life. That was something that was very palpable in the green room when I was doing Stand Up For Live Comedy with the other comics, which was like: 'We've missed this. We've missed the green rooms. We've missed hanging out with other comics. We've missed making people laugh and dissecting the world.' It was great to be doing all that again.
You recorded your episode of Stand Up For Live Comedy at Bristol's Lakota Gardens. Do you have a history with the venue?
I used to frequent Lakota Gardens when I was a teenager. When I was 18 and I lived in Bristol I went there a lot and let's just say if those walls could talk… 
How was it being back there as a performer?
Oh it was great. The Bristol crowd when we did the show there were just amazing. I say that as someone from Bristol, but they were great and for me it was sort of a celebration because I was meant to go to Bristol for the last tour date for my show The Ballad Of Kylie Jenner's Old Face - which is now called Serious Black Jumper and is on Amazon Prime.
My last tour was meant to end at Bristol Old Vic, which was a huge homecoming for me. I'd always wanted to perform in that main room, but unfortunately it has been postponed. I sort of got to perform at Bristol Old Vic, though, because Mark Olver - who was also the warm-up man for the show at Lakota Gardens - did a socially-distanced live show there called Who Said That? Myself and three other comedians took part via Zoom and I won, mainly because the audience kept giving me these extra random points that Mark kept offering for no reason.
So I think there's a real sense of Bristol pride that I've gone off and done well. That's one of the interesting things about the Stand Up For Live Comedy format. It's going around the country to all these places where stand-up comedy is really prevalent. London has its own stand-up comedy thing but up and down the country there are thousands of comedy clubs that have all been affected by this, and the reason they're fantastic is because local people come to the shows and they enjoy comedy. One thing the show highlights is that people who live in smaller towns are very funny people. I get all my humour from being Bristolian, for sure.
How is it being back on stage in front of a live audience?
For me this was my eighth gig back after lockdown and for a lot of people in the line-up it's their first gig back. They all smashed it and what's really impressive is that these people have been locked in for six months and they're still funny.
What was it like in the venue and backstage in terms of precautionary measures?
With all the gigs I've done, everyone is taking it super seriously. Everyone's in masks, there's hand sanitiser everywhere and we're all separated - so at the Bristol show everyone is on picnic tables that are socially-distanced from each other. It's something we're having to get used to. I've done all sorts of gigs; I've performed to people in masks, I've performed to people in cars, I've done Zoom gigs. It's not exactly what it used to be like but that Bristol gig is definitely one of the better gigs I've done since lockdown.
Your co-comedians on the show are Tom Lucy, Mo Omar and Lauren Pattison. What do they each bring to the mix?
They're fab. They're great. They're so funny. They're really great stand-ups and everyone loved their material. There was a lot of fresh stuff too. Everyone has obviously been writing over the last six months and they were doing brand new material that went really well. When you first start doing stand-up people always say you're brave. They go 'You're so brave and I don't know if I could do that'. After doing stand-up for a while, then gigging five nights a week over ten years, it stops being brave because you really understand how to do it, but after six months off we're now all brave again.
How does what's been happening around the world in general and the UK in particular play into your comedy now?
I like to talk about the world as it is and put my own spin on things. A comic's job is to take complicated conversations and make them palatable, and of course to make people laugh. I'm not there to preach to people, I just want them to enjoy life. The national news is quite terrifying at the moment so what I do is keep abreast of the local news. [Laughs] There's nothing more fun than hearing about Bristol having earthquakes.
When it comes to making people laugh, do you have boundaries you won't cross?
I don't really punch down; I think that's the expression. I'm not sure about boundaries with comedy really. If you're a good comic I think you can pretty much say whatever you want so long as it's got a punchline. We're meant to say the unsayable and in the world right now there's a lot of people who are scared to say stuff because of the reaction you can have on social media. But when you're in front of a live audience, if you're a good comic you will just say stuff and people will laugh.
Obviously because of lockdown social media has been quite prevalent in terms of moving people off the air and that sort of stuff, but I'd love to see someone take me off the stage when I'm in mid-act. I don't think there's anything people can't say. Yes, there's stuff that people shouldn't say but I don't think we should ruin people's lives for things they've said, especially in the past. People go hunting into their pasts to try and find inappropriate things they've said, but what is this world we're living in where people are doing that? 
Is there anything about comedy that's especially British?
We're so dry and we've got that British stiff upper lip politeness thing we do as well, so I think there's something very sexy about someone saying something that's taboo. Saying the unsayable, there's something very naughty about it. The naughtiness is what I love about stand-up and getting away with things because you've got a bit of cheek and a bit of charm.
It's naughty and silly and punk, and what else is punk nowadays? In the 70s it was the Sex Pistols and mohicans and looking different, but now what is being punk all about except comedy? Politics are crazy and you don't know what side is what. It's so complicated at the moment and comedians really simplify those conversations that can often be very confusing.
Interview by Simon Button supplied by publicists