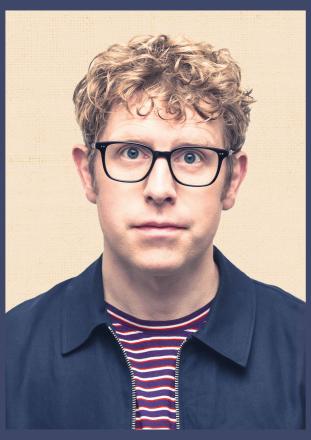 I've been to all sorts of comedy shows in the last few months, but this one seemed to be the best. Maybe it's because Greenwich Comedy Festival gigs always have an al fresco vibe as they are usually in marquees. Maybe i just needed a laugh more than ever. Or maybe the acts were just excellent and that's what a comedy gig needs most of all.
John Robins hosted on a marquee-less tage open to the elements on a distinctly chilly night, while the huge audience sat in socially distanced pairs on seats. It did feel relatively intimate even though a combination of traffic noise and distance from the fans made Robins struggle a bit with his banter. But then awkwardness is part of his style. As he talked about his favourite subjects, from car leasing to mortgage interest rates, he excelled at being boringly brilliantly funny. But he is also an excellent MC. Imagine Alan Partridge crossed with Daniel Kitson.
First act Lou Sanders shrewdly kept her coat on, explaining that at a recent outdoor gig the audience was distracted from laughing because they were worried about how cold Sanders was. No heating issues here and she hit her stride pretty quickly, with dating tips and jokes about penis size. Sorry, I mean sophisticated jokes about dating and penis size with some classy rug-pulling punchlines. She closed her set by reading people's future in a thoroughly original way that you don't get every day. Unless, of course, you live with Lou Sanders.
Sindhu Vee offered a set which confirmed that she is one of the classiest relative newbies on the circuit, with a deceptively acidic side. The bulk of her slot told the story of having her hair done in lockdown, not being able to catch the name of the stylist and the social difficulties this caused when she rang up to book her next appointment. Even when you could slightly see what was coming Vee's combination of amiability and comedic arrogance ensured there were plenty of laughs. For a relative newbie she seems like a veteran in the best possible way, totally at ease onstage to the point where it feels as if she is just chatting rather than delivering material. 
Headliner Josh Widdicombe was similarly on top form. He's been keeping his hand in during lockdown with his Parenting Hell podcast with Rob Beckett and his winning set here featured a similar range of utterly relatable gags. Highlights included him wondering whether taking the plunge and wearing glasses onstage had been a good move, or maybe, as his sight is perfect in one eye, he should wear a monocle.
Another strong segment was his riff about taking his personal pilow on tour with him to help his bad back/neck and being suspected of nicking hotel pillows on departure. A simple routine polished to perfection with comic asides and subtle act outs. 
Widdicombe also noted that when he had done past indoor gigs here the heaters had made it feel as if it was 40 degrees celsius onstage. Maybe, he suggested, tonight's temperature was payback for him complaining about the heat. Now, if only the organisers can do something about the British climate in mid-September they'd really be onto something. But they certainly have the right idea in all other departments already. 
The Greenwich Comedy Festival runs until September 27. Gigs are pretty much sold out but if you can get any tickets you really should. Link here.