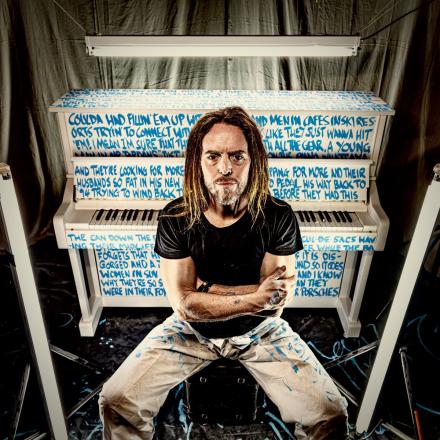 Ahead of his debut album Apart Together, set for release via BMG on 20 November, Tim Minchin has revealed a fourth track 'Airport Piano'. The track takes a more upbeat direction and follows Tim's previously released tracks, which include acclaimed debut single 'Leaving LA' and album title track 'Apart Together'. 
 
To accompany the new single, Minchin has released the official visual for 'Airport Piano'. Whilst in lockdown, Tim put a call out on Twitter to find an old piano that he could sand down and write the lyrics of the latest track on. In his latest creative offering filmed in his garage, he does just that with a brand-new piano gifted by Yamaha. He plans to auction the piano to raise money for a chosen Australian charity. Watch the official music video [HERE].
 
"Airport Piano is almost definitely the funkiest tribute to midlife crises and the emptiness of acquisition ever recorded in the antipodes," said Minchin. "It walks the line between extremely cool and extremely uncool with barely a teeter."
 
Minchin's first single of 2020, 'Leaving LA' was acclaimed by NME with the follow up equally well-received; 'I'll Take Lonely Tonight' was praised by Rolling Stone. His most recent single, the album title track, 'Apart Together', was inspired by a story on LA radio station KCRW about an elderly couple in their mobile home who died of hypothermia in each other's arms. The song tenderly teases out the improbable beauty of such an outcome, framing it in an exquisitely pensive setting.
 
Tim Minchin is a veritable creative genius; he's enjoyed continued worldwide success as a musical theatre composer-lyricist, countless sold out concerts, as well as being one of the most successful Australian comedians of his generation.
 
That it has taken Minchin until now to release his first "proper" album speaks volumes about the twists and turns his career has taken since he made the 14,500-mile journey to London from Perth in the hope of finding an audience for a kohl-eyed, shock-headed musical comedian.
 
Minchin opened and closed the illustrious BAFTA TV Awards which were broadcast on BBC One in July, at which he delivered a 'hilariously bleak' bespoke original song to open proceedings according to NME and performed 'Carry You' as the finale, the song featured in the critically acclaimed TV series Upright, a Foxtel/Sky Atlantic production which Tim wrote, directed and starred in. The eight-part series follows two misfits thrown together by chance in their quest to get a precious piano from one side of Australia to the other. 'Carry You' also appears on Apart Together.
 
Minchin also wrote the music and lyrics for a stage adaptation of Roald Dahl's Matilda which went on to become one of the most critically and popularly successful musicals of the last 20 years, winning more than 85 international awards, 16 for Best Musical, including a record 7 Olivier Awards and 5 Tony Awards as well as GRAMMY nomination for the Matilda Broadway Cast Recording.
 
Minchin, one of the most successful lyricists of his generation, has sold hundreds of thousands of tickets to live shows in Australia, the U.K. and the US with Time Out calling him "a musical genius and quite unlike anyone else out there." His last U.K. tour at the end of 2019 saw him play 22 shows including 6 sold out nights at London's Eventim Apollo. The Times describe Tim as "a genuine musical virtuoso, whose songs are constructed and sung with an attention to detail that would make Rufus Wainwright sit up and look nervous. And that's even before we get to the jokes".
 
Tim's forthcoming album is set for release on 20 November, available to pre-order now [HERE]. The official artist store features exclusive merchandise bundles and signed formats including limited dual coloured vinyl.
Watch the Visual for Airport Piano below