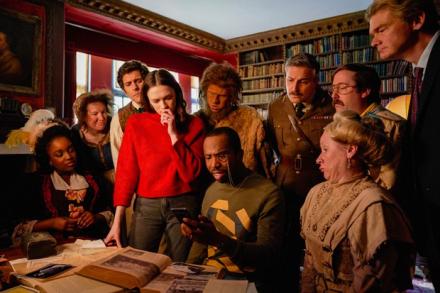 The team behind Ghosts was lucky enough to finish most of their shooting just before lockdown back in March so it's great to see this hit sitcom back as a lynchpin in the autumn schedules. It even, by chance, has a plague joke in the first episode, so there's something for the clickbaity tabloids to get their teeth into if they want to stir up some fake offence.
To be honest it would be pretty hard to get offended by this tale of a couple trying to make ends meet when they inherit a crumbly old country mansion. Charlotte Ritchie (Fresh Meat) and Kiell Smith-Bynoe (Stath Lets Flats) play young twosome Alison and Mike who in the opening episode have the brainwave of haunted house visits to keep the wolf from the big old heavy wooden door.
Except, of course, when the ghosthunters arrive the ghosts have their own ideas...And there are lots of them to have ideas. Ghosts must have one of the largest sitcom casts since Are You Being Served? and Dad's Army, with various spooks from caveman up to disgraced sex scandal-hit dead politician being played by Jim Howick, Simon Farnaby, Mat Baynton, Lolly Adefope, Katy Wix, Ben Willbond, Laurence Rickard and Martha Howe-Douglas.
This is no Hammer horror chiller though. The emphasis is on fun and clever visual gags, making most of the ability of the undead to be unseen and able to walk through walls. Most of the people in it were intimately involved in Horrible Histories and Ghosts – written by the stars – has the same kind of silly, childlike glee. It's also good to see that it has moved from it's post-watershed 9.30pm slot to the more appropriate 8.30pm.
There's nothing here to scare the horses or the children, although maybe I'd rather not be the parent who has to explain to the kids why Farnaby's MP Julian has no trousers on. Let's just say he had an "accident" while not wearing them...
Ghosts, 8.30pm. BBC One, Mondays from September 21. Watch on catch-up here.
Image Credit: BBC/Monumental