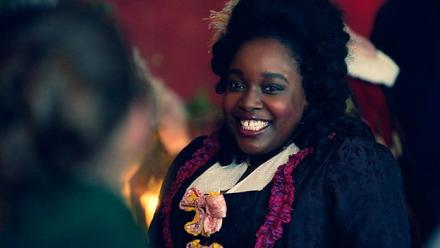 Hit BBC sitcom Ghosts returns on Monday, September 21 at 8.30pm. Lolly Adefope is back as the unrelentingly positive ghost, Kitty. Below Adefope reveals why she loves playing this uplifting role...
Read an interview with Ghosts co-star Charlotte Ritchie here.
"Kitty is a very sweet, innocent and positive character and for a comedy character that is somewhat rare, as they tend to be cynical or broken in some way and so Kitty is a very uplifting character to play. She has a kind of positivity and purity that you don't get to see all too much on screen, but it is empowering. Instead of trying to shake her off at the end of the day I want to keep her with me.
"I like that Kitty laughs at everything, all of the time which is quite similar to me. Originally when we first started discussing her the joke was that she was going to be really stupid and I didn't know how I felt about that. I thought it would be funnier and nicer if she was very sweet. There is something quite amusing about someone who is relentlessly positive and wants to be everyone's friend in a cynical world. She is young and naïve but she is less stupid and more sheltered and sees the good in people, which is a very inspiring trait."
Desperate to befriend everyone but specifically keen on making a friend out of the new tenant, Lolly discusses Kitty's idolisation of Alison, played by Charlotte Ritchie...
"Kitty desperately wants a best friend and there were hints in series one that her sister was not the best sister and bullied her a little and so she is this young girl in a house of older people who is constantly trying to find someone she can connect with. She sees Alison as the cool, older sister she always wanted and in series one Alison finds Kitty quite tiresome and is overwhelmed by the fact she can see ghosts but then in series two there are moments where it seems like they really do get on. Also, Charlotte and I are good friends and we find those characters so funny so it's really fun to play those moments. Sometimes Alison is using Kitty to her own end and it is disguised as friendship but it doesn't even matter to Kitty because to her it is friendship and she will take whatever she can get. It is fun to play someone who likes everyone and is liked by most people, or is at least tolerated."
Lolly discusses what it's like working as part of a big ensemble...
"It is harder in some ways as you have to get more shots but it is great fun to have a big gang on set and you can never get bored. Everyone is making each other laugh all of the time. It is quite fun when you have a big group to try and work out the combinations of characters who may not have done many scenes together. Katy (Wix) and I got to film some together this series, which was great. But we were looking forward to the next series and asking questions like 'what would it look like if Kitty and The Captain (Ben Willbond) were alone in a scene together?' There is a lot of humour that can come from those kinds of questions.
"Everyone's characters are so different so you have a great opportunity to raise your game as you have an amazing character and what's great is you don't know everything abut them straight away. We still don't know Kitty's back story and there is so much more about these characters to be revealed. With such a large group of great characters everyone is given the opportunity to shine and everyone gets their moment to be funny. It is hard to be introduced to so many characters at once but the fact they have all died helps you relate to them a little more. Once you explore their deaths and delve into their past lives it is quite moving and it allows you to deal with these quite heavy topics like death through these quite ridiculous characters, which makes it a lot easier."
Ghosts is filmed in a beautiful but eerie 15th century manor house. Lolly reveals how the cast discovered who was brave enough to stay alone in the house…
"There is a game we would play on set where we'd say 'okay, I have a box, would you do this thing' and then we'd reveal how much money is in the box, like Deal or No Deal, and you had to decide if you would do the thing for that amount. We did that a lot with staying alone in the house for a night with nothing more than you have on you and a sleeping bag. Martha (Douglas-Howe) definitely didn't want to. I was okay with it, I would just try to go to sleep immediately but the money got pretty high with people still saying no!"
Lolly gives us a little snippet of what's in store for Ghosts series two...
"People find out about the house and the possibility of ghosts living there and so ghost hunters come by and try their luck at spotting something. Mike and Alison capitalise on that, needing to raise funds for the restoration. They also throw a big party in one episode and it is all about the mass hangover the next day and we watch as they try to piece together what went on using the clues around the house and it is funny to see how the ghosts deal with other people in the house.
"Mike is a little more used to the ghosts now, he can kind of tell when they're around and he even tries to talk to them this series which is funny.
"Series two is even bigger and better than series one and you get to delve further into the past lives of the ghosts. You get to see how the ghosts, Alison and Mike are getting used to living together and it is bolder than series one. Now we have introduced the characters to everyone we can set them free and you get to see a new side of each of them and learn a little about what their lives were like before."
Interview supplied by BBC.
Image Credit: BBC/Monumental