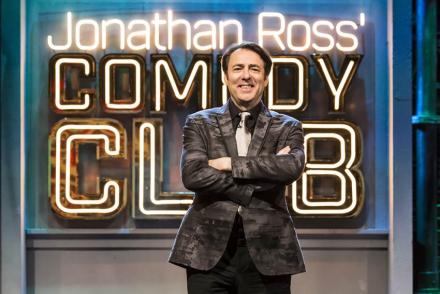 It's hard to believe now because it feels so much like part of the furniture, but when Live at the Apollo started in 2004 it was a bit of a revolution. For many viewers it was the first time they'd seen stand up in a venue working properly on television. There had been previous attempts, with shows such as Paramount City, but Live at the Apollo really pushed stand-up onscreen to another level.
At first glance then it feels as if Jonathan Ross' Comedy Club is a step backwards. Total respect to ITV1 for putting this out in a decent slot after Britain's Got Talent and not burying it on ITV2 at 1am on a wet Wednesday, but it does that impossible thing, it tries to recreate the atmosphere of an intimate comedy club onscreen. I don't think any television show has ever managed that.
And given that the audience here was socially distanced and wearing masks they were attempting it with both hands tied behind their back. It was too bright for a start. And it looked like it was in a studio. And as for Ross sitting on a stool like a sad lonely middle aged punter in his punk rock tie sipping his drink. Well, I guess that's what I look like at gigs so I'd better not knock him too much. But at least I'm in the dark at the back, not lit up at the side of the stage.
But now the good news. The programme is showcasing some top new stand-up talent. And it hasn't just picked out the obvious next generation of household names, it has gone to the generation beyond that with really fresh comics who are very new to TV.
First up was the pretty well-established Kae Kurd, who walks a skilful line between mainstream and tougher material. Here he understandably stuck to his more accessible routines and won the crowd over easily, talking about smart fridges, gigging in Dubai and and how young people today are so soft they could never cope if there was a war when they can't even cope with gluten. 
The slots were so short musical double act Flo & Joan had to hit the ground running with their listicle-style song taking in dogging, blogging, Simon Says, why toilets smell of piss and lots more. They probably didn't have the time to win over new fans but they varied the pace of the evening nicely and proved that there is much more to them than their twee Nationwide ads.
Mawaan Rizwan was Ross' DJ sidekick throughout but came into his own when he did his song about never having been skiing. Rizwan - who can also currently be seen in Sky's Maisie Williams comedy drama Two Weeks To Live – will probably be the breakout act of this series as a) he's on every week and b) he's very funny.
Sophie Duker is so confident onstage it feels like she has been around for years, whereas she was actually only nominated for an Edinburgh Comedy Award Best Newcomer prize in 2019. The excerpt from her show about having an Uber driver called "daddy" went down well and her riff about how every random woman in her family home is an "auntie" worked even better. 
New turns did such quick spots if you ran to the toilet as fast as Usain Bolt you'd have still missed them. Leo Reich had quite a daring routine for ITV1 on a Saturday night comparing right wing views today with 1930s Nazis. Sukh Ojla explained how like a lot of people of her age she lives in a houseshare – with her mum and dad.
Finally as a nod to big names dropping into real clubs to roadtest new gags Rob Beckett came on to chat about Tiger King, Covid and the horror of sneezing while wearing a mask. And then just as you were getting into it he was gone. It was that kind of show. A heck of a lot packed into a thirty-minute slot. An hour would've been so much better.
When Live at the Apollo started, people enjoyed it so much they rushed out and bought tickets for gigs by people they'd just seen, triggering a stand-up boom. If that doesn't happen this time that's more to do with the tragic lack of gigs to buy tickets for than any lack of talent on display. 
Jonathan Ross' Comedy Club, ITV1, 10pm, Saturdays. Catch up on ITV Hub. For a list of upcoming acts click here.
Picture: ITV