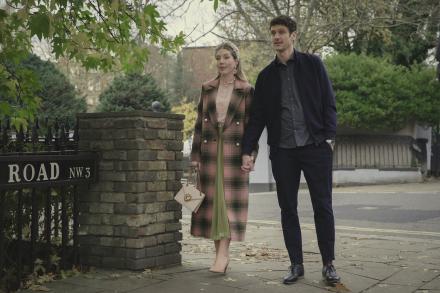 Katherine Ryan's character in shiny new Netflix comedy The Duchess is called Katherine, so maybe it is no surprise that there are autobiographical elements to Ryan's self-penned sitcom debut. As with real life Ryan, Katherine is a single mum who is not short of a few forthright opinions. Although I don't know if the real Ryan has ever turned up at the school gates in a shirt sporting the slogan "World's Smallest Pussy".
The first episode sets things up nicely. Katherine is very close to her young daughter Olive (Katy Byrne) and they make a great double act, but she is also wrestling with the idea of having a second child. The father of Olive is a feckless ex-boyband member Shep (Rory Keenan) who lives on a barge, while Katherine also has a booty-call based relationship with nice Evan (played by fellow comedian Steen Raskopoulos, pictured with Ryan). Although Evan would clearly like something more serious.
As you'd expect from such a prolific stand-up the script is certainly peppered with plenty of laugh-out-loud lines. And there are some winningly quirky touches too. Katherine runs a modest but hip pottery business called "Kiln 'em Softly" and has a penchant for yappy little dogs.
It'll be interesting to see how the comedy goes down in America as the programme has a strong English feel - there is a Richard Curtis-y sunny North West London vibe to the look, with a splash of Motherland and Catastrophe thrown in for good measure.
But the loudest voice here is definitely Ryan's. Her stand-up routines have often emphasised how she is a strong woman who takes no shit and that's pretty much what we see in the fictional Katherine in episode one. How it will pan out I can't say, but there is certainly more than enough going on here to make me want to find out.
Oh, and comedy fans might like to know that Smack The Pony's Doon Mackichan and stand-up Geoff Norcott also pop up in later episodes.
Watch The Duchess on Netflix now.
Picture: Netflix