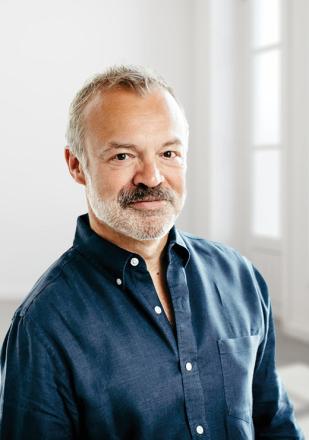 Graham Norton is to appear at the London Palladium to celebrate the release of his brand-new novel, Home Stretch. For one night only on 27th September 2020, Norton will be live on stage in conversation.
There are a limited number of tickets to be in the live audience available all going on sale Wednesday 9th September at 10am from www.fane.co.uk. 
Following on from the success of his first two best-selling novels - Holding and A Keeper – this will be Norton's first Home Stretch event. Set in 1987, a small Irish community is preparing for a wedding. The day before the ceremony a group of young friends, including bride and groom, drive out to the beach. There is an accident. Three survive, but three are killed.
The story focuses on Connor, one of the survivors and the driver of the car, who leaves the only place he knows for another life. Travelling first to Liverpool, then London and then making a home in New York, Connor tries to forget his past. But the secrets and regrets will not be silenced.
In conversation with best-selling author and award-winning podcaster Elizabeth Day, Graham will be discussing his life, career and what inspired him to write Home Stretch. Don't miss this chance to spend an evening with one of the UK's most loved personalities. 
The event will also be simultaneously livestreamed by Fane on their new Fane Online platform. Fane Online is a curated series of broadcast-quality live-streams, giving audiences the chance to watch exclusive shows with celebrated authors, actors and podcasters, all from the comfort of your own home. Tickets for Fane Online are available from www.fane.co.uk. 
An Evening With Graham Norton is in collaboration with Hodder & Stoughton publishing.
As The London Palladium welcomes back its first audiences since closure in March 2020, and in line with current Government guidance, this event will be hosted under social distancing, with venue-wide safety mitigations, including the wearing of face coverings. Full information about safety measures and requirements will be sent to ticket holders ahead of the event.
Tickets for An Evening With Graham Norton are on sale Wednesday 9th September, available at www.fane.co.uk
Picture: Sophia Spring
Graham Norton is on The One Show on Tuesday 29 September.