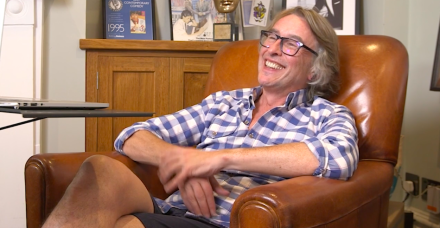 Gary McNair interviews Steve Coogan tonight as part of the current Shedinburgh Festival – an alternative to the Edinburgh Fringe being streamed online from sheds in Edinburgh and London.
McNair is in the shed, Coogan is actually online at home surrounded by various awards (and what looks like the sleeve of the 1981 BEF album Penthouse and Pavement, though we are not sure why). 
BTJ has seen the interview in advance and over the hour Coogan looks back fondly on his Edinburgh experiences. From seeing the miltary tattoo as a child in 1979 to making his debut in the late 1980s and then wnning the Edinburgh Comedy Award – then known as The Perrier Award – in 1992 for his show with John Thomson directed by Patrick Marber in which Alan Partridge made an early appearance.
It was particularly intriguing to learn that in the same year Coogan also appeared in an afternoon sketch show with Stewart Lee, Richard Herring, Simon Munnery and Patrick Marber.
He talked nostalgically about the old days when there were no mobile phones and you had to arrange to meet people and stick to the plan.
But most of all he celebrated the Fringe: "It's all about art...the most exciting thing I ever won in my life was the Perrier Award." Six people were at their first show that year: "You can go from zero to hero in three or two weeks."
He also mentioned a number of comedians he had seen there and enjoyed over the years including Tommy Tiernan, Tim Key and Liam Williams.
And tantalisingly he talked of returning one day to perform there again: "Something odd and misshapen. And maybe only half funny."
Watch the interview "live" at 9.15pm tonight. It will not be repeated. Link and more details about the festival here.