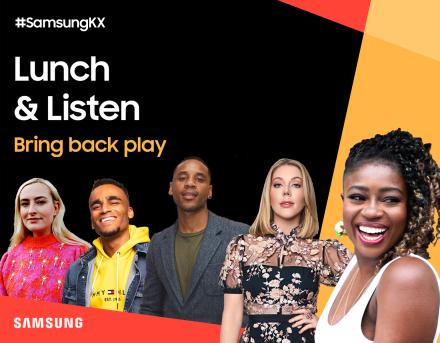 Samsung KX has announced the launch of 'Lunch and Listen', to celebrate the release of the Samsung Galaxy Note20 device. This two-part event series is designed to inspire people to reclaim their lunch breaks and find a better work-life balance.
Both episodes of 'Lunch and Listen' will be filmed at the Samsung KX hub of innovation in London's King's Cross to a limited audience, where host Clara Amfo will be finding out how her guests approach their own work and play balance, along with tips on how to strike the perfect balance. Clara will be chatting about upcoming projects her guests have for 'work', before delving into the hobbies and passions you never knew they had, that makes up their 'play'.
The first show will reveal Munya Chawawa's hidden past times and Amelia Dimoldenberg's passion for quizzes and poetry. In episode two Katherine Ryan, joined by her dog, will hero her love of fashion in a mini showcase. Reggie will capture her stand out style on the Galaxy Note20, photography being a hobby he is famously known for, all to a live audience at the Samsung KX space.
Ahead of the upcoming Samsung KX 'Lunch and Listen' show episodes, host Clara Amfo commented:"I'm really looking forward to catching up with Amelia, Munya and co for the start of our Samsung KX, 'Lunch and Listen' series. They're two people who have definitely kept me and millions of others entertained before and after lockdown. Tech is a vital part of everyday life, now more than ever, but it's also so important to achieve that much proverbial balance between both work and play, that we all strive for, and what this two part series hopes to do. See you at lunchtime.  
Tanya Weller, Director of Samsung Showcase, KX said: "We're really excited to be launching 'Lunch and Listen' at Samsung KX. We hope this event series will help inspire and enable people to be more creative during their lunch break, which especially now, is often a time we all neglect. As a hub of innovation both on and offline, we're excited to offer this exclusive content series alongside our guests for people to reclaim their lunchtimes with the help of Samsung technology."
Fans will be able to book their space at Samsung KX to be part of a live audience for each show recording. Tickets are free, with a limited amount available to comply with government guidelines. The events are as follows:
Friday 28th August: Clara Amfo, Amelia Dimoldenberg, and Munya Chawawa
Tickets available from here.
Saturday 29th August: Clara Amfo, Katherine Ryan, and Reggie Yates
Tickets available from here.
Those who aren't able to attend the show recording, can tune in online through http://www.samsung.com/uk/kx from Wednesday 9th September.