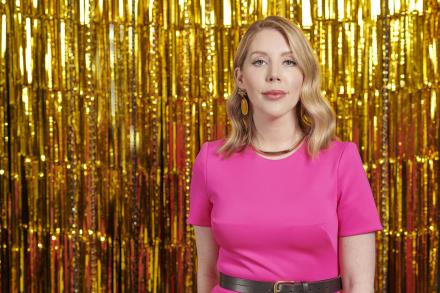 Katherine Ryan has been announced as the host of All That Glitters, the upcoming BBC Two talent search series, which sets out to find the UK's next up-and-coming jewellery star.  
Ryan hosts the six-part series from a specially built workshop nestled in Birmingham's historic Jewellery Quarter, home to more jewellers than anywhere else in Europe and a place that's been a jewellery-making mecca for over 500 years. Here, she will welcome eight talented jewellers, who will battle it out over the course of the series, designing and creating jewellery to brief.  
Each show sees the jewellers face two real world challenges; The Best Seller where they are tasked to design a piece that will appeal to a mass market and The Bespoke  where they make a real client's dreams come true and make a piece to wear to a significant occasion, whether it's their wedding or collecting an OBE from the Queen.   All That Glitters is bursting with science, history, and culture and the materials the jewellers are working with are some of the most valuable objects on earth: from gold and silver to diamonds and pearls, so the stakes are high.
Katherine Ryan said: "I am so delighted to be a part of the beautiful show that is All That Glitters. I've always loved wearing jewellery and it's fascinating to learn about the intricate process of making these pieces. I'm in awe of the skill and artistry of our eight jewellers, who manage to transform the client's emotion into objects of beauty that last forever."
Each week, Ryan will also be joined by two experienced judges from the world of jewellery; Solange Azagury-Partridge and Shaun Leane, who will decide who is named Jeweller of the Week and who will be heading home.  
Solange Azagury-Partridge is an award-winning British designer, who launched her own brand over 30 years ago. She has also worked as Creative Director of Boucheron and her pop art inspired work is featured in the permanent collections of the Victoria and Albert Museum and the Louvre Museum in Paris. Her statement Hotlips design has become an icon of modern jewellery design. 
Solange Azagury-Partridge said: "I'm thrilled that this series has come into being and I'm super happy to have been asked to be a judge. The emotion, hard work and skill that goes into designing and making jewellery will finally be demonstrated for all to see." 
Fellow judge Shaun Leane's career spans over three decades, having begun as an apprentice in Hatton Garden. Shaun is known for his avant-garde designs and he has created ground-breaking catwalk jewellery with Alexander McQueen, fine jewellery for clientele including Lady Gaga and Elton John, and designed Princess Beatrice's engagement ring. He has been named UK Jewellery Designer of the Year four times has pieces on permanent exhibition at London's V&A Museum and New York City's MET Museum.
Shaun said: "It's been a remarkable experience to guide and mentor the design makers and I've enjoyed watching them flourish over the weeks. They should all be very proud of their achievements. On a personal level, it fills me with joy to see the art of jewellery making, which I have practiced for 36 years, come to life on the screen and be transmitted into homes for everyone to enjoy. The programme perfectly captures jewellery as a craft with all its different facets of intricacy, emotion, dedication and passion. I am thrilled to be a part of it." 
All That Glitters was commissioned by Patrick Holland, Controller, BBC Two. The BBC Commissioning Editor is Jack Bootle, Head of Commissioning, Science and Natural History and the Executive Producer is Amanda Westwood for Twenty Twenty.