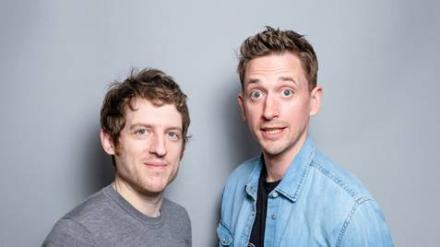 After a popular first series, How Do You Cope? …with Elis and John will be back on BBC Radio 5 Live & BBC Sounds for a second series.
Starting Tuesday September 1st, award-winning presenting duo Elis James and John Robins return with more celebrity guests to talk about some of the greatest challenges they've faced – both mental and physical.
Whilst the series finds guests opening up about deeply personal setbacks – including grief, illness and abuse – much like the first series, the episodes certainly aren't without positivity (and a fair bit of laughter).
The opening episode of How Do You Cope? (available from September 1st) sees Elis James and John Robins chatting to chart-storming singer-songwriter George Ezra. George opens up about his struggles with anxiety and OCD, as well as the pressures of being a high-profile touring musician.
Other upcoming guests include comedian Josie Long, naturalist and TV presenter Chris Packham, cricketer Monty Panesar and footballer Fabrice Muamba, all of whom tell their own incredibly personal stories. 
From Tuesday September 1st, a new episode will be released every week via BBC Radio 5 Live and BBC Sounds.
Comedians and long-standing best friends, Elis James and John Robins joined BBC Radio 5 live in May 2019 to present a weekly entertainment show on Friday afternoons. They picked up Gold at the Audio Radio Industry Awards for 'Funniest Show' earlier this year.
Elis James says: "I never fail to be amazed at the guests we interview on How Do You Cope?. Whether it's Monty Panesar discussing the pressures of elite level sport or Fabrice Muamba's relentless positivity in the face of a career being cut so cruelly short, this series has inspired me as I'm sure it will the listener. Stigma around mental health can only be challenged by people speaking out, and it was an honour to interview these people – all of whom have faced different challenges, but they were all united by an ability to speak candidly and eloquently about the journeys they have been on."
John Robins adds: "Recording the second series of How Do You Cope?, Elis and I found ourselves on video calls with some of the most inspiring, eloquent and fascinating people. Each of them has experienced a different kind of challenge, and has a unique insight into how they got through it. From Terri White's unflinching honesty about the impact of childhood sexual abuse, to Chris Packham's powerful descriptions of life on the autistic spectrum, each interview has left me with immense admiration for people who speak out to increase awareness of mental health...but my main feeling is a profound sense of hope, which perhaps we need now more than ever. We all have mental health, both good and bad, and listening to these amazing people speak about their own journeys, has been a huge privilege."                                                                                                                                                                                                                   -
The new series of BBC Radio 5 Live's podcast How Do You Cope? …with Elis And John will be available on BBC Sounds from September 1st.