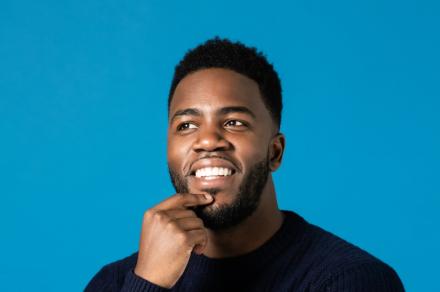 Mo Gilligan is set to join The Masked Singer panel that has to figure out 'who's that behind the mask?'
Filming for the hit ITV series commences this autumn with host Joel Dommett back to preside over the unique guessing game that gripped the nation at its first outing. Davina McCall, Rita Ora and Jonathan Ross will all resume their celebrity sleuth roles. 
Due to current restrictions on international travel Ken Jeong will not be a regular panellist this season but hopes to make an appearance or two during the series.  He remains a huge part of The Masked Singer family and will shortly complete filming on season 4 in the US. 
Across eight shows a fresh cast of twelve celebrities, complete with new and ever flamboyantly elaborate character costumes, will be singing and concealing their identities as they attempt to stump viewers and the panel alike on who they could possibly be. 
The new line-up will be hoping to follow in the footsteps of the first series winner, Nicola Roberts, who performed as Queen Bee and triumphed over an eclectic and unexpected range of singers that numbered politician Alan Johnson, singers Kelis, Justin Hawkins, Skin, Jake Shears and Katherine Jenkins, footballer Teddy Sheringham, comedian Jason Manford and TV personality Denise Van Outen.
Mo Gilligan said: "It's a real privilege to be joining The Masked Singer team. It's one of the funniest shows out there and I'm really proud to play my small part to help bring a little bit of joy to the nation. I can't wait to join Jonathan, Rita, Davina, Joel and hopefully Ken! Now… let's get cracking."
Ken Jeong said: "I had so much fun on season 1 of The Masked Singer UK, I told the team nothing short of a global pandemic would stop me from coming back for Season 2!  I am gutted because I truly love working with Joel, Rita, Davina, Jonathan and everyone at Bandicoot and ITV. I hope when things start to normalize I can return and offer my expertise on all things British, like the Australian Open.  Please take care, be safe, and as the title of the show suggests, wear a mask."
Davina McCall said: "Absolutely loved playing Detective Davina last year, I've really missed it... can't wait to play all over again. Ken can't sit next to me at the start of the new series but maybe I'll be less distracted and more on it with my guesses (think we all know that's not going to happen :-) shhhhh)! Really, really hope to see him back if he can make it over but until then I'm literally beside myself about sitting next to Mo... Can't wait to get guessing along with you, Rita and Jonathan."
Rita Ora said: "I had so much fun last season, I can't wait to be back on the panel again this year.  It's incredible to be part of such a unique and loved show.  It's got everything that you could ever want for Saturday night entertainment - it's fun, witty, full of surprises, not to mention the amazing costumes, and this year we're welcoming the hilarious Mo Gilligan to the show - he's going to be a great addition to the panel."
Jonathan Ross said: "I had a ball on The Masked Singer and am thrilled that we get to do the whole thing again and so excited that the brilliant Mo Gilligan is joining us this year.  It's great to have him on the panel and hopefully we'll also get to see Ken back during the run. But most of all I'm excited to see who will be under the masks!"
Joel Dommett said: "I'm super excited to have Mo on The Masked Singer panel. He is one of the best comedians around right now and I'm proud to have him on the team! He will provide the good guesses and good looks that Jonathan and I struggle with."
Katie Rawcliffe, Head of Entertainment, ITV said: "Mo Gilligan is a fantastic talent that is going to bring a fresh new energy to the show and really complement our much-loved returning panel. We're delighted to have him on the show and to welcome Davina, Rita, Jonathan and Joel back. We adore Ken, of course, and hope he can make an appearance or two in this next series."
Executive Producers for Bandicoot, Derek McLean and Daniel Nettleton said: "We are delighted that Masked Singer UK is returning to our screens and can't wait for Mo to dive into the best guessing game on TV. While we are obviously disappointed that Ken may not be joining us, we are confident that he will correctly guess the same number of celebrities, despite not being there." 
The Masked Singer UK is produced by Bandicoot TV (part of Argonon Group) and the executive producers are Derek McLean, Daniel Nettleton and Claire Horton. This second series follows the success of the first series which premiered on ITV in January 2020. It fully consolidated with 6.6m viewers and a 32% share and was the biggest new format launch on any channel.