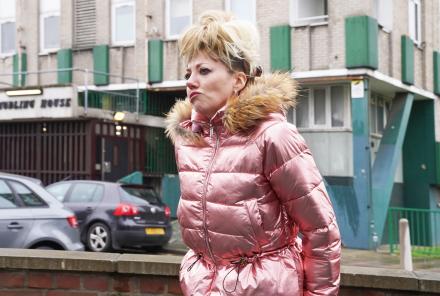 Diane Morgan's new comedy Mandy is an interesting one. It's a sitcom, but only 15 minutes long rather than the usual half hour, so the BBC is showing two episodes back to back. Yet 15 minutes feels just about right. There's a cartoonish quality to Morgan's working class chancer with the biggest, wonkiest lips in TV and any longer might just be too ridiculous.
In the first episode Mandy is looking for a new job. Jobseekers boss played by fellow After Life star Tom Basden certainly finds her an unusual one – killing the deadly spiders that are regularly – way too regularly by the look of it – found in imported bunches of bananas. Mandy takes to it like a duck to water until she stops to enjoy a fag and text her mate Lola (Michelle Greenidge) and chaos – and mass arachnid-related death – ensues. 
Needless to say she is soon looking for new employment and ends up working in a fried chicken shop, until a further cigarette-based incident stomps on that career opportunity. Look out for Room Next Door's Michael Spicer as her brief boss.
The series is dominated by Morgan's brilliant physicality. Her angular walk is hilarious and her lips alone deserve a Bafta. There are echoes of hapless old comedy icons from Frank Spencer to Mr Bean and Jacques Tati in Mandy's uselessness and also, at times, the gormlessness of her most notable role to date as Philomena Cunk.
In the second episode though we get a more conventional sitcom set-up when Mandy meets an old nemesis played by real-life friend Maxine Peake and they have a Single White Female line-dancing hoedown showdown. And talking of real-life friends, Morgan's real-life partner and executive producer Ben Caudell pops up in a spoof payday loans advert in episode one. That's him grinning like a goon and holding up a pint in the Cash Maggot ad.
Morgan herself stars, writes and directs and in a recent interview jokily compared herself to Orson Welles. Mandy is no Citizen Kane, but as sitcoms go it certainly knocks the spots off Citizen Khan. 
Mandy, Thursdays, 9.30pm, BBC Two. Watch the whole series on iPlayer now here.
Picture: BBC/Kieron McCarron