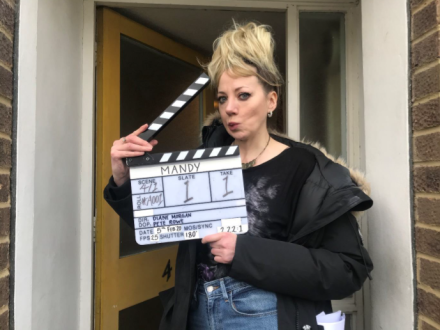 Shaun Ryder, best known as lead singer in Happy Mondays, is set to play the ex-husband of Diane Morgan's character in her new BBC sitcom Mandy.
Morgan explained how the singer was cast in an interview in the Observer: "When I was writing, I'd think: 'Ooh, I wonder if we could get such-and-such?'...I asked myself, if Mandy had an ex-husband, who would it be? Mark E Smith's died, so it had to be Shaun Ryder. He got to fire two guns for this shootout scene and it was his best day out ever. Shaun was like: 'I'm not an actor, I hope I'm not shit', but he was brilliant."
Ryder joins an illustrious cast. The six-part series also features guest stars including Tom Basden (Plebs, After Life), David Bradley  (Game of Thrones), Natalie Cassidy (EastEnders), Sean Lock (15 Storeys High, 8 Out Of 10 Cats), and Maxine Peake (Peterloo, Anne, The Bisexual).
They will join the regular cast of Michelle Greenidge (After Life, Code 404), Alistair Green (Flowers, Stath Lets Flats), Mark Silcox (Man Like Mobeen, Rovers), Michael Spicer  (The Mash Report, The Room Next Door), and of course Diane Morgan herself as Mandy. 
The series, written, directed by and starring Morgan, also stars Jackie Clune (Motherland), Emily Dean (The Day of the Triffids), Masashi Fujimoto (47 Ronin), Akemnji Ndifornyen (Famalam, Leonardo), broadcaster Iain Lee and Tony Way (Giri/Haji, Edge of Tomorrow). 
Mandy (Diane Morgan) is a woman with dreams. Big dreams. Most of all she dreams of breeding Doberman Pinchers. But there are hurdles to overcome before that dream can become a reality. In the series we'll see her go on a health kick, rent out her small back bedroom on Airbnb and attempt a series of short-lived jobs in the modern gig economy. 
Mandy starts on Thursday, August 13, on BBC Two.