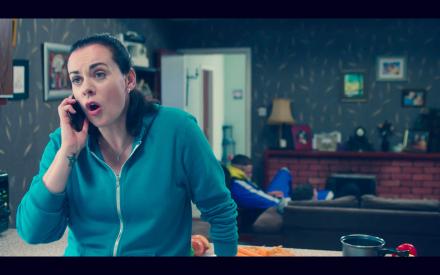 If nothing else good comes out of the pandemic at least there is a chance that more people will see The Young Offenders. I'm not sure if it is because the BBC is running out of new programmes to broadcast but whatever the reason it's good to see that this is airing on Friday nights on BBC One as well as being available as a boxed set on iPlayer/BBC Three.
In the second episode of the third series scallywags Conor MacSweeney (Alex Murphy) and Jock O'Keeffe (Chris Walley) are, yes, you've guessed it, on the rob again. They've got their eye on some cool bikes and after donning masks - bit pointless as everyone knows it's them – nick them without too much difficulty.
The trouble is that the bicycles might look good in a fat-wheeled low-slung Easy Rider way, but they are the slowest bikes in history and the crappy villains are soon being chased by local Gardai officer Healy (Dominic MacHale) who has a puncture and can't go any faster than they can. If a snail was on the streets of Cork it would probably overtake them all.
But the boys think they've got away with the crime of the century when they lock themselves in a dairy warehouse. Except that all Healy has to do is sit outside and wait for them to get hungry, which should take all of thirty minutes...
The only trump card they have is matriarch Mairéad (Hilary Rose), who just happens to be Healy's old flame. Can she help them pull off a quick getaway and snatch victory from the jaws of defeat? Well, given that Healy makes Top Cat's Officer Dibble seem smart what do you think?
The Young Offenders has so much dumb charm it has a childlike universal appeal. In fact if it wasn't for the "fecks" and "pricks" and a very funny masturbation joke in this episode it could pretty much be a children's programme from the 1970s. It is not sophisticated comedy, it doesn't break new ground and if there was any justice Conor and Jock would be banged up. But somehow you will find yourself cheering these idiots on. And watching every episode.
Watch all episodes now on iPlayer here. Also on BBC One on Fridays at 9.30pm.
Picture: BBC/Vico Films/Miki Barlok