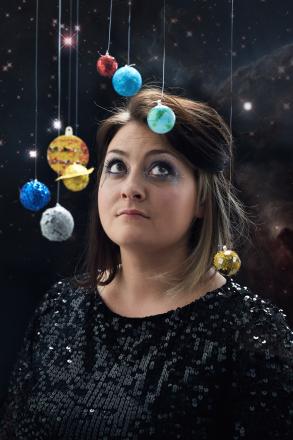 Manchester's Frog and Bucket comedy club has been chosen to produce a pilot live comedy show on Wednesday 29 July ahead of other venues opening on Saturday 1 August.
The evening will be a showcase and fundraiser for the Women in Comedy Festival with the all female line consisting of Shazia Mirza, Kiri Pritchard-McLean (pictured), Barbara Nice and Ola Labib.
The government has requested pilot shows with socially distanced audiences are conducted in July ahead of indoor performances being permitted from 1st August - subject to the success of pilots.  The Frog and Bucket are proud to have been selected as the pilot study venue.
Jessica Toomey, the director of The Frog and Bucket, noted, "I'm honoured that I've been entrusted with the pilot and the opportunity to prove how safely stand up comedy can be offered indoors.  It's also very exciting to fire up the stage lights again after being closed for over four months and witness our audience having a good laugh following what has been, quite frankly, a shocking few months." 
Shazia Mirza – rose to fame with a deadpan delivery talking about her British Pakistani Muslim upbringing. Since then she's made numerous TV and radio appearances and turned her incisive wit to a variety of issues.
Kiri Pritchard McLean – a long time friend of the Frog, and a fast rising star, has a string of critically acclaimed solo shows under her belt as well as being one half of the tremendously successful podcast All Killa No Filla with Rachel Fairburn. 
Barbara Nice – there's little more joyous than a Barbara Nice performance. The Stockport mother of five, played by Janice Connolly, is a tonic in any line up. Expect dancing, sing-alongs and possibly a Dettol giveaway. As seen on Britain's Got Talent.
Ola Labib – though a relative newcomer the British Sudanese comic has been making her mark on the circuit with wonderfully forthright material that pulls no punches. One to watch for sure.
The Frog and Bucket was at the forefront of the #savelivecomedy campaign, which received nationwide attention and was trending at No 1 on Twitter for 9 hours. 
The campaign was created by the Live Comedy Association (LCA) to ensure that Oliver Dowden and Rishi Sunak's rescue package awarded to the arts would go to live stand up too. Live comedy is consistently over looked when it comes to arts funding despite being the most accessible and inclusive art form for performers and customers alike - ticket prices tend to be lower than theatre productions and the scene is far more egalitarian in its acts' socio-economic backgrounds. 
A survey conducted by the LCA indicated that a third of all live venues felt they would be forced to close in the next six months, rising to three quarters in the next year.
The Women in Comedy Festival runs every year in October. This year's festival will be the 8th celebration of women, and those who identify as women, in comedy. Originally founded by Dulcet Sounds' Hazel O'Keefe, Toomey and the Frog and Bucket have been on board since 2018.