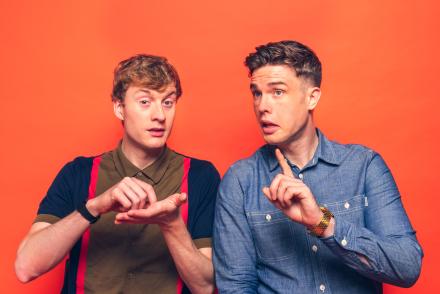 Off Menu with Ed Gamble and James Acaster – the award-winning podcast that invites a special guest into the 'dream restaurant' to order 
their favourite meal – has been downloaded over 30 million times in just over three series.
Since launching in December 2018,  Off Menu has regularly topped the podcast charts, was voted Best Comedy Podcast at the Pod Bible Awards, won Best Podcast at the Online Influence Awards and has featured a wide range of guests including  Teri Hatcher,  Armando Iannucci,  Victoria Coren Mitchell,  Kumail Nanjiani,  Daisy May Cooper and  Rose McGowan alongside British comedy favourites like  Greg Davies,  Aisling Bea,  Nish Kumar and  Katherine Ryan.
James Acaster said: "I am going to celebrate by eating a tub of ice cream for every listen."
Ed Gamble said: "I can't believe how many people listen to this dumb s**t."
Series 4 of the popular podcast started last week with guest  Romesh Ranganathan, and the second episode is out today with  Louis Theroux ordering his dream meal.
Off Menu is also very excited to announce a range of  merchandise, featuring designs from four of the Off Menu team's favourite artists: Lucy Moore,  Paul Gilbey,  Iain Sellar and  No Context Off Menu.
The merch – which includes t-shirts, mugs, tote bags and tea towels – is available to pre-order now from  offmenupodcast.co.uk. 
Off Menu with Ed Gamble and James Acaster is produced by Plosive Productions – the team behind podcasts including  Nobody Panic,  Cuddle Club with Lou Sanders,  Might Delete Later,  Microscope and recent British Podcast Awards Gold Award winner  The Rob Auton Daily Podcast. Plosive also produces the Audible Original series  Audible Live from the Edinburgh Festival Fringe and produces live comedy shows across the country.
Off Menu with Ed Gamble and James Acaster is available on
Picture: Paul Gilbey