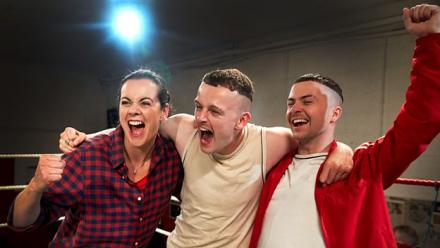 If recent hit Normal People offered one slice of young Irish life, The Young Offenders offers a very different one. This hit series homes in on what you might politely call the rougher side of Irish life, following the misadventures of  Conor MacSweeney (Alex Murphy) and Jock O'Keeffe (Chris Walley) whose dodgy antics in Cork are as misguided as their extreme bowlcut hairstyles.
In the first episode of the third series the hapless friends find themselves involved in a spot of lighthearted big-time crime, nicking a load of televisions from the local delivery van. All they need to do is back their vehicle up to it, distract the driver and make out like like a bandit with a transit full of HD TVs.
Of course, that's the theory. What happens is somewhat different. Largely, but not entirely, because Jock finds himself unexpectedly on dad duty looking after his new baby, Star, on the day of the heist. Ocean's 11 it ain't.
Talking of theft, there is a very different, much more successful one going on here. They do say never work with animals or children and inevitably Star steals every scene by not really doing anything at all, just sitting in the middle of a shop or on a car bonnet during a comical nappy-changing sequence.
The addition of a baby to the cast adds to the charm of this episode. Conor and Jock are criminals but Jock also wants to fulfil his parental duties however bad he is at them. For thieves who should be behind bars they are remarkably amiable. 
Creator Peter Foott makes something that could be fairly ordinary into something that is extraordinarily fun to watch. As well as the two main leads the colourful cast also includes matriarch Mairéad (Hilary Rose) who is currently trying to shake-off local Gardai officer Healy (Dominic MacHale). Every time he phones her he gets a two word responses - the second word is usually "off".
It is likely that in the England The Young Offenders will be forever likened to other Irish comedies. But it is harsh to compare it to Derry Girls (from the other side of the border) or Father Ted (even though there's a perspective gag here that has echoes of Dougal and the cows). The humour is universal and The Young Offenders is a quality product in its own right. To miss it would be criminal. Though not as criminal as those haircuts. 
Watch now on iPlayer here. Also on BBC One on Fridays at 9.30pm.
Picture: BBC